It was a special day at the Colorado Health Institute. We celebrated three decades of work – 10 years each – by three very special colleagues: Senior Administrative Assistant Kathy Helm, Director of Research on Coverage and Access Jeff Bontrager and Senior Director for Policy and Analysis Amy Downs.
Amy, Jeff and Kathy shared memories from their time at CHI, along with their pride in what we've become, as we toasted them with champagne. Amy, left, Kathy, center, and Jeff, right, are shown below.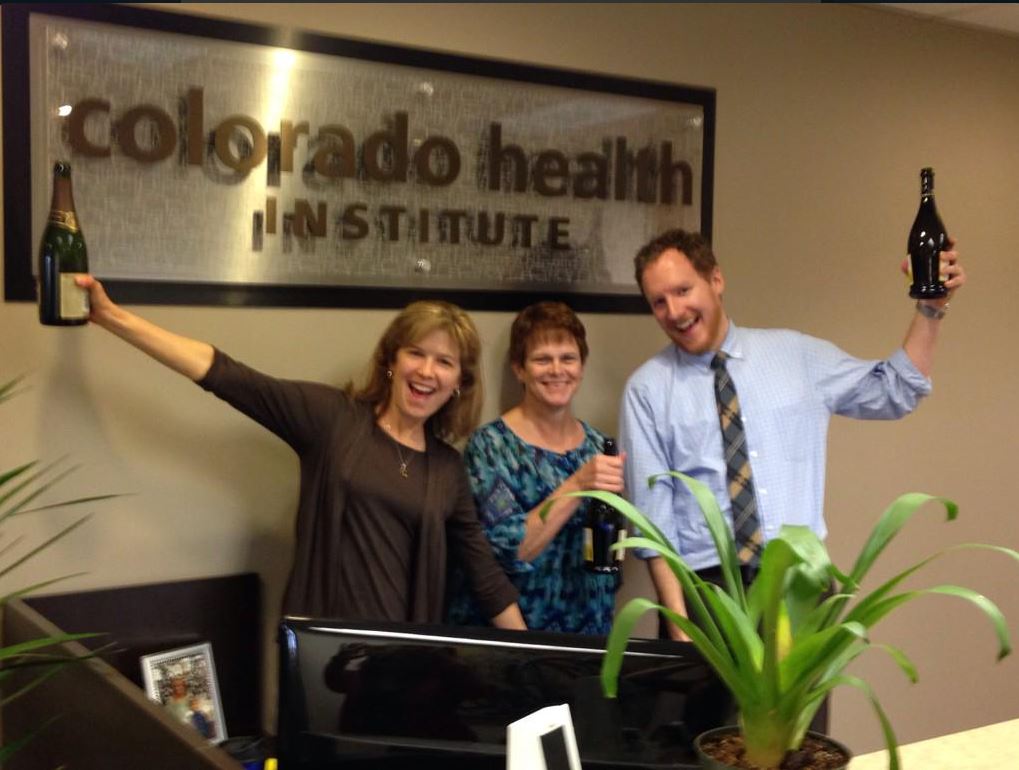 At the same time, we welcomed a new colleague. Jefferey Riester joined us as a Research Analyst. He will be working on health policy issues related to long-term services and supports. Jefferey, an attorney who graduated from the University of Akron School of Law, has a passion for public policy. He most recently worked at the Colorado Department of Public Health and Environment.
In honor of National Public Health Week, the Colorado Health Foundation in partnership with the Colorado Health Institute released a new Colorado Health Report Card Data Spotlight. The Data Spotlight takes a deeper look at physical activity and the role of the public health community in getting Coloradans more active. You can read it here.
Monday was a two-presentation day for the CHI team. Research Analysts Tamara Keeney and Nina Roumell presented on the remaining uninsured at a meeting of Boomers Leading Change in Health.  Their presentation highlighted work from last year's Eligibility Atlas. Tamara and Policy Analyst Jessica Fern teamed up on a presentation Monday night for a health policy class at Regis University, covering how data can inform the policy-making process and some examples from Colorado. 
On Wednesday, Liz Weaver of the Tamarack Institute will be visiting the CHI team for a workshop on collective impact.
The Colorado Access to Care Index continues to gain traction both in Colorado and nationally. If you need to get up to speed on the new tool, you can view a recording of last Thursday's webinar here.
Tomorrow, our CEO Michele Lueck will talk to a group of past and current Public Interest Fellows from Colorado College at a lunch hosted by CHI.  The Public Interest Fellowship Program gives Colorado College graduates a full year of work experience at one of Colorado's non-profits. CHI currently has one fellow on staff, Sara Robbins, and employs four past fellows, Tasia Sinn, Natalie Triedman, Hannah Wear and Nina Roumell. Michele will talk about her career path and share advice with the recent grads.
Finally, CHI will have a table at the Culture of Health Conference this Thursday at the Sheraton Downtown Denver Hotel. If you are in attendance, be sure to stop by and say hello.