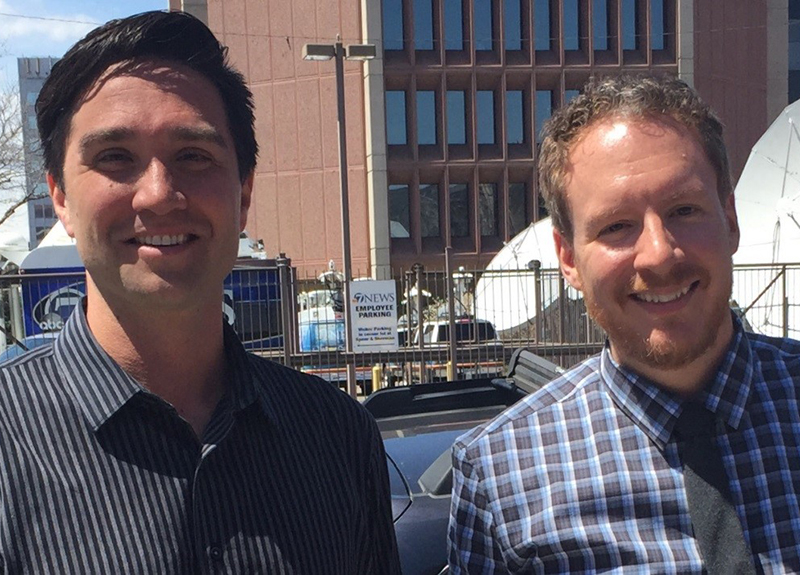 The two Jeff Bontragers: Dr. Jeff Bontrager is on the left, CHI's Jeff Bontrager is on the right.
Bontrager is not a common surname in Colorado. If I'm not correcting a mispronunciation — like BONE-tra-jay rather than BON-tray-ger — I'm usually telling someone that I'm not related to the guy who makes Bontrager bicycle components.
So imagine my surprise when I learned there is another Jeff Bontrager residing in Denver.
And that he spells his name exactly the same. (Jeffrey).
And that he's a fellow Gen Xer. (We were both born during the Ford Administration).
And that he's from the town where I went to college. (Goshen, Indiana).
And that he works in health care.
For the past five years, Jeff A. Bontrager, MD, has been a hospital physician at Lutheran and Good Samaritan Medical Centers. More recently, he has added pediatric urgent care to his plate at The Children's Hospital Colorado North Campus.
Through the happy coincidence of a misdirected email, Dr. Jeff and I recently connected and had lunch. Since I focus on health care policy, I couldn't let this opportunity pass without asking him to reflect on health care from the front lines.
I first asked him about the pediatric population he serves. Before becoming a physician he worked in community outreach with The Hispanic Project in Indianapolis, helping to link Latino communities to available health care services.
Many of the barriers that prevented families from signing up for social programs — lack of awareness, concerns about legal documentation, linguistic and cultural differences — continue to be pervasive in health care, Dr. Jeff said. In urgent care, he often sees language and lack of health literacy as hindrances to getting treatment.
I am fascinated with his role as a hospitalist — a physician who specializes in inpatient treatment. He cares for patients during their stay in the hospital, doing everything from monitoring to diagnosing to managing medications and developing a care plan.
 "I appreciate the creativity and problem solving that's required in being a hospitalist," he said.
He added that one of the challenges is treating patients dealing with substance use disorders. I asked him about the epidemic of opioid addiction that we now hear about so often. While he definitely sees cases of narcotic dependence and overdose, he said alcohol is a much more prolific culprit – often with similar unfortunate outcomes.
Despite the suffering he witnesses, Dr. Jeff embraces his role in the medical community with both passion and compassion.
When I asked him his favorite part of being a hospitalist, he responded – without hesitation – by saying, "I appreciate meeting patients at a vulnerable time. There is a true authenticity in that moment."