The Colorado Health Institute kicked off this shortened week bright and early Tuesday morning when CEO Michele Lueck moderated a lively panel at the Denver Business Journal's annual health forum. She led the discussion around "Health Care – What's Next? How does the new legislation affect human resources, company benefits, business growth and health care decision-making?"
Panelists were: Dr. Janel Allen-Davis, vice president of government and external relations for Kaiser Permanente; Kim Bimestefer, president of Cigna Mountain States; Stephanie Pederson, vice president of UnitedHealthcare of Colorado; and Jason Woods, Director of PwC.
Later Tuesday afternoon, Amy Downs, Senior Director or Policy and Analysis, will make a presentation to an advisory group of Engaged Public, the Denver research and consulting firm that designed a two-year study on value-based insurance design in the San Luis Valley. Amy, who has been working with Engaged Public on measuring the study, will be going over some of the results related to patient satisfaction and lessons learned from providers.
If you haven't already, be sure to read our latest report - Colorado's Primary Care Workforce: A Study of Regional Disparities – launched last week. The findings received media coverage in the Denver Business Journal, The Denver Post, The Colorado Springs Gazette, the Steamboat Pilot & Today and Health News Colorado among others. Lead author, Rebecca Alderfer, was interviewed by Ryan Warner for Colorado Matters on Colorado Public Radio and appeared on Fox31 Denver News (see below photo).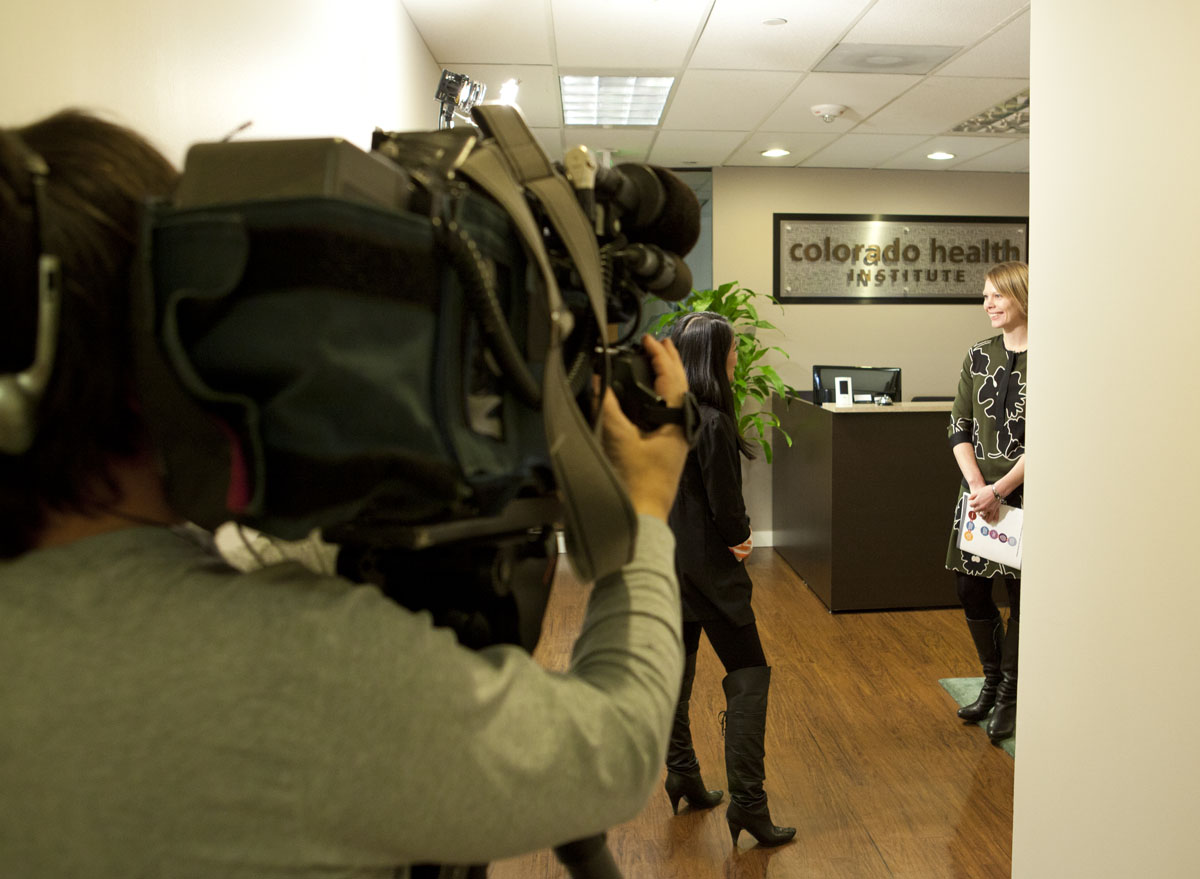 In other workforce related news, we will be updating our county-level workforce data from the Department of Regulatory Agencies (DORA) later this week. The Colorado Health Institute downloads the data on the first business day of each year and includes the number of actively licensed professionals in each county for 21 different professions along with the number of new licenses and the net change from one year to the next. Stay tuned for the updated data and an accompanying blog with high level analysis on trends from the last few years.
The legislative session is in full swing and the Colorado Health Institute continues to monitor bills and provide timely data to legislators. Tomorrow, we will launch the first installment of our legislative blog by Research Assistant Kevin Butcher. Kevin will summarize bills that we're monitoring and give status updates on where they are in the House and Senate.
Other CHI happenings:
Megan Lane, Director of Legislative Services, will be on a panel for the Denver Downtown Leadership Program Tuesday to share her experience as a participant in the program. Megan is a trustee of the program, which brings metro-area business professionals together to research, analyze and collaborate a number of urban issues, policies and practices.
Kevin Butcher will travel to Englewood Wednesday to meet with the South Metro Health Alliance as part of CHI's efforts to focus on communities around the state. Each CHI staff member was assigned a region. We will publish the stories on our website later this year.
Tasia Sinn, Senior Research Analyst, and Sara Schmitt, Director of Community Health Policy, are conducting key informant interviews for CHI's upcoming work on Long-Terms Services and Supports (LTSS).
Later this week, we will meet to plan our Colorado Health Access Survey (CHAS) activities for the rest of the year. We will release a monthly brief, a map per month and four longer reports on CHAS findings. We will continue the weekly Insight on CHAS data. You can find last week's insight on the chronically uninsured in Colorado here.
For more updates throughout the week, remember to like us on Facebook and follow us on Twitter.