Third in a series of blogs by Policy Analyst Tamara Keeney for Mental Health Month.
The ninth grader standing before me had tears in her eyes as she told me how hard things had been for her.
I had spent the past hour teaching this student and her classmates a lesson in mental health — why it matters and the help that's available. As happened after most of these sessions, the student approached me to share her story.
The class was a part of the two semesters I spent volunteering with Peer Health Exchange — a nonprofit that trains college students to teach health classes in low-income, urban high schools. Peer Health Exchange runs 13 different workshops on topics like sexual health, substances and mental health.
The girl who approached me was not alone. One quarter (24.3 percent) of students in Colorado report that they felt so sad or hopeless almost every day for two consecutive weeks in the past year that they stopped doing their usual activities. Some students struggle more than others. The map below shows that high schoolers in Adams, Denver and Pueblo report the highest rates.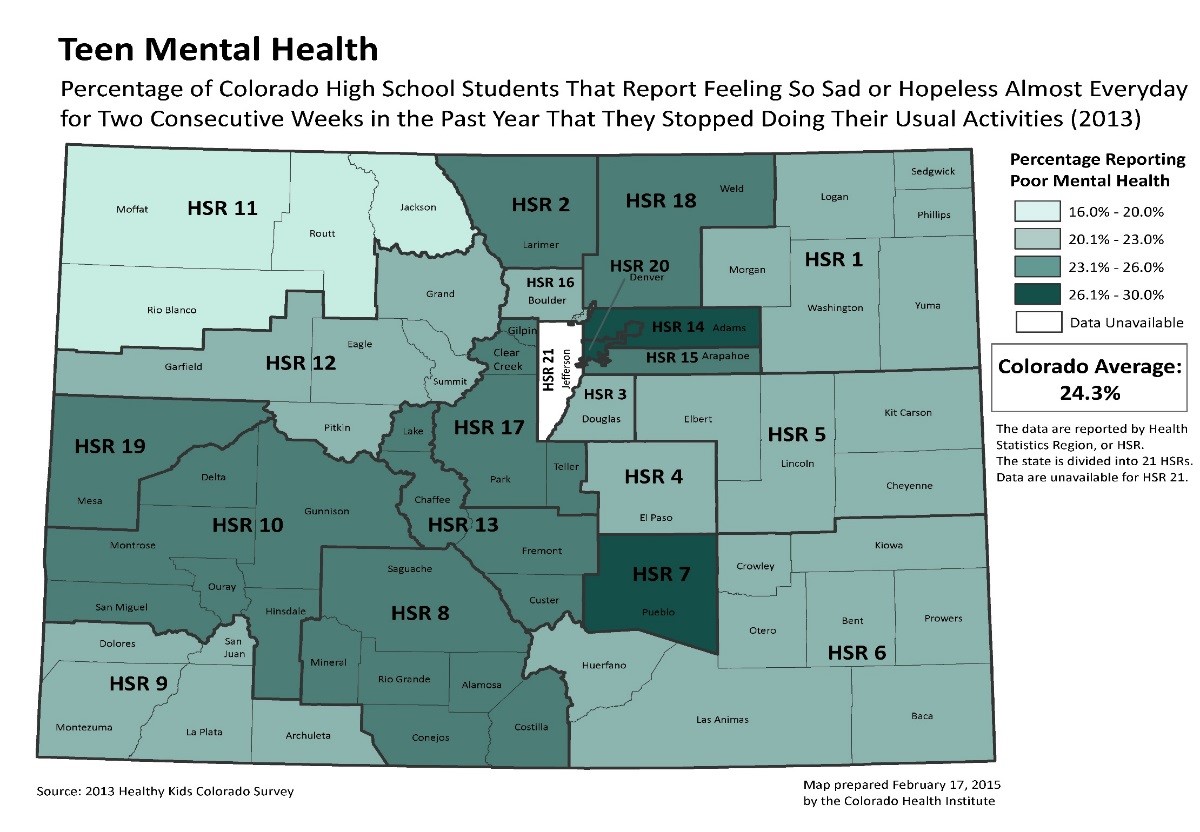 Lesbian, gay or bisexual (LGB) high schoolers have an especially hard time. More than half — 59.4 percent — of LGB high school students reported poor mental health in 2013, compared with 20.8 percent of heterosexual students.
In 2013, 14.5 percent of high schoolers reported that they had seriously considered attempting suicide. A regional look at the data finds a large range of rates from about eight percent in northwestern Colorado to as high as 18.2 percent in Pueblo County.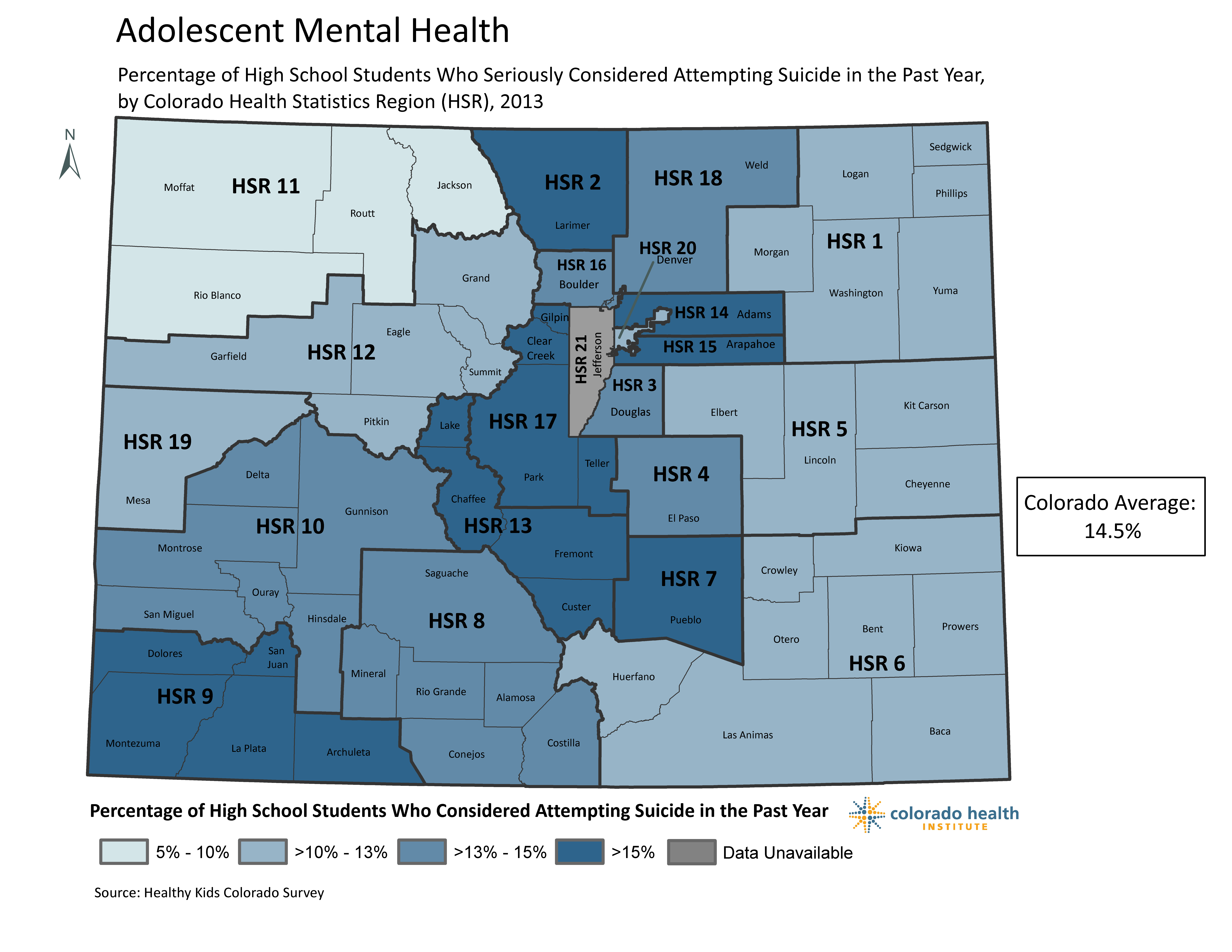 Adolescence is a time of great change, many unknowns and great opportunity. And for some, it's a critical time to get the help they need. The student who approached me after class was trying to navigate ninth grade, but she seemed to be having a harder time than her friends. She recognized in herself some of the warning signs we'd discussed during our workshop and had the courage to let me know.
But it isn't always so easy for a teenager — or an adult — to share that they are struggling. One strategy to get teens talking about the challenges they are facing is to use technology as a bridge. The high schoolers of today don't know the world without the internet and cell phones. As such, it makes sense that services and supports for adolescents need to be pushed through the internet and text messages to meet them where they are.
One organization who using this strategy is Crisis Text Line. Crisis Text Line offers free, 24/7 support with a trained volunteer via text. Since 2013, the service has processed more than 17 million messages. Colorado's own crisis service also offers a text option. Users can text 38255 to start a chat with a crisis text counselor.
Data on high schoolers in Colorado is available thanks to the Healthy Kids Colorado Survey — a project by the Colorado Department of Public Health and Environment, the University of Colorado Denver, the Colorado Department of Human Services Office of Behavioral Health and the Colorado Department of Education. New Healthy Kids Colorado Survey data will be out in late June and will include a number of new questions on mental health. These questions will provide even more information on the needs of students and how students perceive their access to support. Look for a series of CHI briefs on the Healthy Kids Colorado Survey — including a brief on mental health — later this summer.