Second in a three-part blog series on the impact of mental health policy changes in Colorado following the Aurora theater mass shooting four years ago.
As we near the fourth anniversary of the mass killing by convicted murderer James Holmes, the Colorado Health Institute is revisiting the policy decisions made by state lawmakers in the wake of the tragedy that left 12 dead and 70 injured.
The most sweeping change is contained in Senate Bill (SB) 13-266, which aimed to pioneer an innovative method of mental health care delivery in Colorado.
Governor Hickenlooper and state lawmakers, working with a wide range of stakeholder groups, were determined to create a system that would be accessible to everyone, regardless of ability to pay. They specified that the revised system should use evidence-based practices to treat both adults and children and that it would build on existing services and programs while adding creative new components.
To accomplish this ambitious goal, legislators crafted Colorado Crisis Services, a statewide crisis response system that has been described as unprecedented. They allocated $20 million for the multifaceted system. This includes a 24-hour telephone line for crisis assistance, several walk-in crisis centers equipped with Crisis Stabilization Units (CSUs), which are responsible for providing in-patient, multi-day mental health interventions, a mobile crisis response team and extensive respite services, for transitional assistance, longer-term care, and support for caregivers. Colorado Crisis Services are available to everyone, regardless of their ability to pay, and no one is turned away because of cost.
See the graphic below for an overview of the system.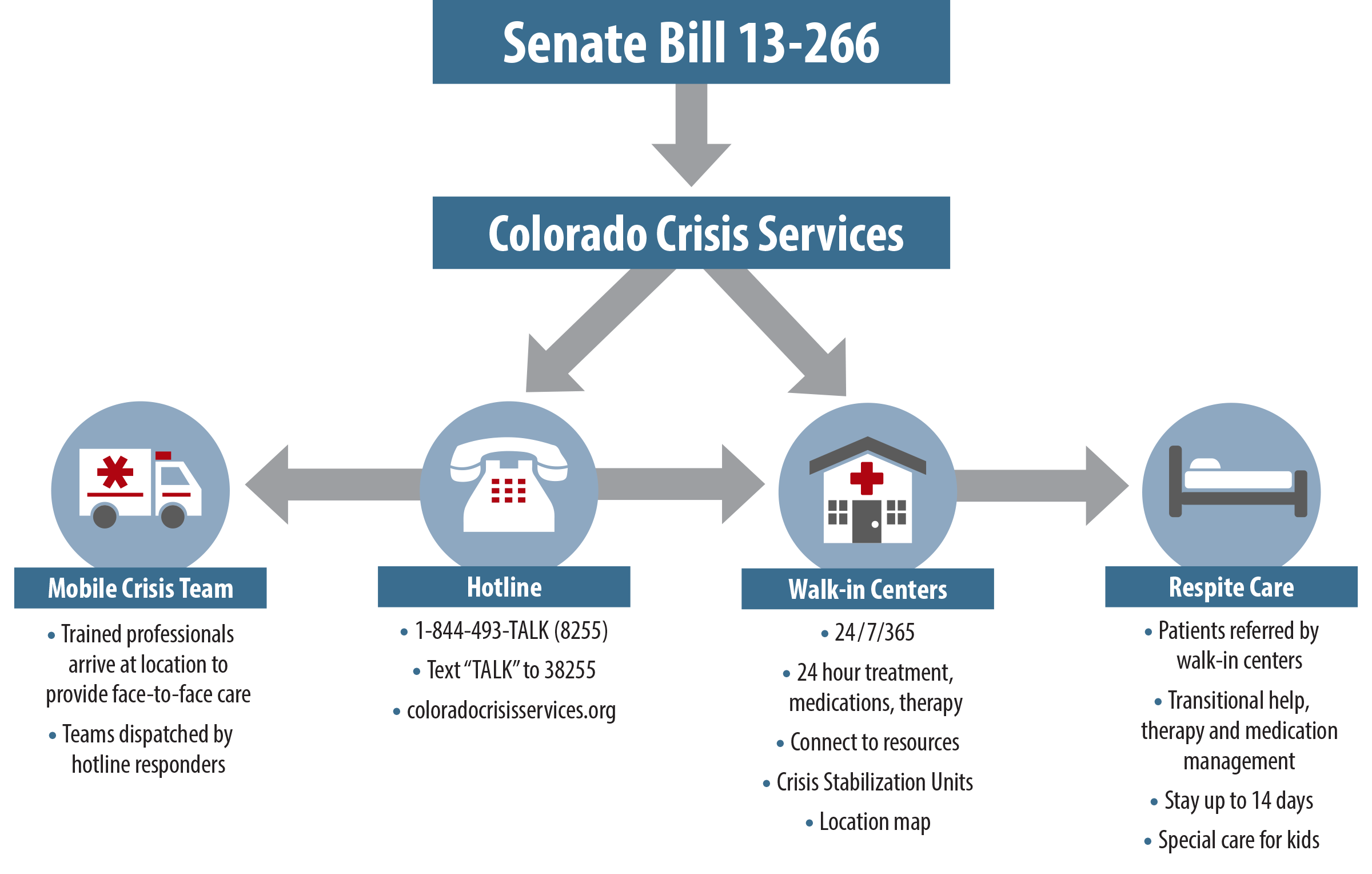 So, after four years, what does Colorado's mental health crisis services system look like? And what do we know about how it's working? Here's what we found:
Crisis Hotline
The Colorado Department of Human Services (DHS) was directed to establish a free 24-hour confidential phone hotline to assist people in mental health crisis. The hotline is staffed by trained professionals who are charged with evaluating the caller, deescalating the crisis and making referrals to additional mental health services.
The DHS partnered with Metro Crisis Services to expand upon an existing mental health hotline in the metro Denver area. The new hotline, operated by Rocky Mountain Crisis Partners (formerly Metro Crisis Services), a non-profit organization created to address in-the-moment mental and behavioral health crises, serves the entire state.
The statewide hotline responded to a monthly average of 5,900 phone calls between March 2015 and May 2016. That represents an average of 3,500 active episodes, defined as a single individual's crisis, each month. Of these episodes, 12 percent carried a serious suicide risk, and in two-fifths of those cases responders successfully deescalated the crisis without needing to connect the caller to immediate care.
The most frequent hotline calls have related to anxiety, but responders have also assisted people calling about substance abuse, mood disorders, family conflicts, psychosis and cognitive issues such as dementia or amnesia.
The responders help callers work through their problems. They also can dispatch a mobile crisis team, which travels to the caller and provides face-to-face assessment, or offer referrals to appropriate care services such as substance use treatment programs or behavioral health clinics. They make follow-up calls to about 20 percent of callers in the following days.
The hotline also connects callers to their local walk-in centers, the mobile crisis response team, or respite care services.
More information on the services offered by the crisis hotline can be found at www.coloradocrisisservices.org. The phone number is 1-844-493-TALK (8255). The responders can also be reached by texting TALK to 38255.
Mobile Crisis Team
The mobile crisis team established under the bill is usually composed of a few trained clinicians or therapists who are dispatched to callers of the hotline.
The therapists go to the caller's location, where they evaluate the caller and formulate a treatment plan. The team works to deescalate the mental health crisis and connects the patient to walk-in centers, Crisis Stabilization Units or respite services.
The seven mobile response teams are each responsible for a different large geographic area. Because of each region's size, it can be challenging for teams to reach patients immediately. But by driving to the caller, they hope to make the mental health care services accessible to the entire state, including to individuals who live in rural areas or who do not have access to transportation. The 24 hour service helps to divert mental health patients from the emergency room to professionals and services that are better equipped to treat them.
Walk-in Centers and Crisis Stabilization Units
Six previously established mental health care organizations operate a network of seven walk-in centers along the Front Range.
Anyone can be treated at the walk-in clinics, which are open around the clock. Many of the patients have been directed to the walk-in centers by the hotline or a mobile crisis team. The center's professional therapists will work with patients to determine a personalized treatment plan and connect the client with outpatient services. A patient may remain in the center for up to 24 hours.
Most centers are equipped with Crisis Stabilization Units, which provide onsite therapy for up to five days. The support may be in the form of one-on-one counseling, group therapy, medication management, or a combination of all services. After stabilizing the crisis, therapists in the unit work with the patient to create a long-term treatment plan and help them reintegrate back into the community.
Respite Care
The walk-in centers and Crisis Stabilization Units have the option of referring clients to respite care services, which provide therapy management, medication management and in-patient mental health treatment for up to 14 days.
Colorado's mental health crisis system has two types of respite services, one for adults and another for children and adolescents.  Adult respite services connect patients to designated beds in the community, where they can remain for up to 14 days. Respite care locations offer counseling, medication management and support for families and caregivers.
Children can stay in respite care for two consecutive nights on the weekend, and for several additional hours during the week. Child-specific respite services specialize in supporting the family in its efforts to care for the child and in developing a multi-generational, in-home treatment plan.
By caring for patients as they go back home or elsewhere in their community, respite care services provide family caregivers much-needed relief, and allow patients to safely and gently transition back into daily life.
Volunteers are recruited and trained by Colorado Crisis Services to provide respite care. Information on how to become a provider can be found at www.coloradorespitecoalition.org.
Together, the components create a network of mental health crisis care.
Although these services had never been connected in a single network of care, some programs already had well-developed community relationships and partnerships.
Building on existing programs, the new policies are helping to create a system of continuous care. The services are run by trained professionals who are well equipped to assist patients in mental health crises and to refer them to ongoing care. So far, these services have assisted thousands of patients.
But Colorado's mental health care system faces ongoing challenges. Recruiting providers to care for patients is complicated. The large geographic regions each clinic and mobile crisis team serve can impede their efforts to provide immediate crisis relief. Issues such as homelessness, substance use and poverty play an important role in mental health issues. And it is often difficult to ensure that communities are aware of available services and understand how to navigate them.
These programs are still fairly new and need additional support to ensure that they continue to grow and serve as many Coloradans in need as possible.
Educating the public, creating a system to streamline data collection and allocating adequate funding to pay for more psychiatric wards and outpatient services will be essential.
For more resources on specific resources in your community, visit:
www.coloradocrisisservices.org