It's been a cold few days in Denver, but the Colorado Health Institute is energized by a number of new projects kicking off for 2015. 
CHI is in the beginning stages of our first project analyzing data from the All-Payer Claims Database (APCD), which houses claims data from 2009 through 2013.
The data will be used to analyze whether there's been a change in the use of preventive care in Colorado since the Affordable Care Act eliminated cost-sharing for preventive services in commercial plans and Medicare.
CHI received a scholarship from the Department of Health Care Policy and Financing (HCPF) to purchase the APCD data. We will debut a sneak peak of the analysis at our Hot Issues in Health Care conference next month.
Another project kicking off this week is a school-based health center needs assessment – an analysis in collaboration with the Colorado Association for School-Based Health Care and the Colorado Department of Public Health and Environment. The analysis will look at indicators to see which Colorado schools and school districts would benefit from a school-based health center. If you have not yet seen our school-based health center chart pack with data from 2012 and 2013, you can find that here.
Work is underway on the 2015 Colorado Health Report Card – a collaboration with the Colorado Health Foundation. This year's Report Card will focus on policy options for addressing problem areas revealed by the Report Card data. We also have new data on adolescents from the Healthy Kids Colorado survey. The Report Card will be released in February. To see last year's Report Card results and analysis, visit our website.
Sara Schmitt, Director of Community Health Policy, is in New Orleans attending the American Public Health Association's 142nd Annual Meeting and Exposition. More than 12,000 health professionals from across the country are attending this year's meeting, Healthography: How Where You Live Affects Your Health and Well-Being.
Sara is presenting a poster which contains a sneak peak of the Colorado Health Institute's upcoming report "Filling the Dental Gap: Caring for Medicaid Clients with Dental Coverage." Her poster summarizes findings from a county-by-county analysis of Medicaid enrollees and the supply of Medicaid-friendly dentists and safety net clinics to care for them. Check out a picture of Sara with the poster below.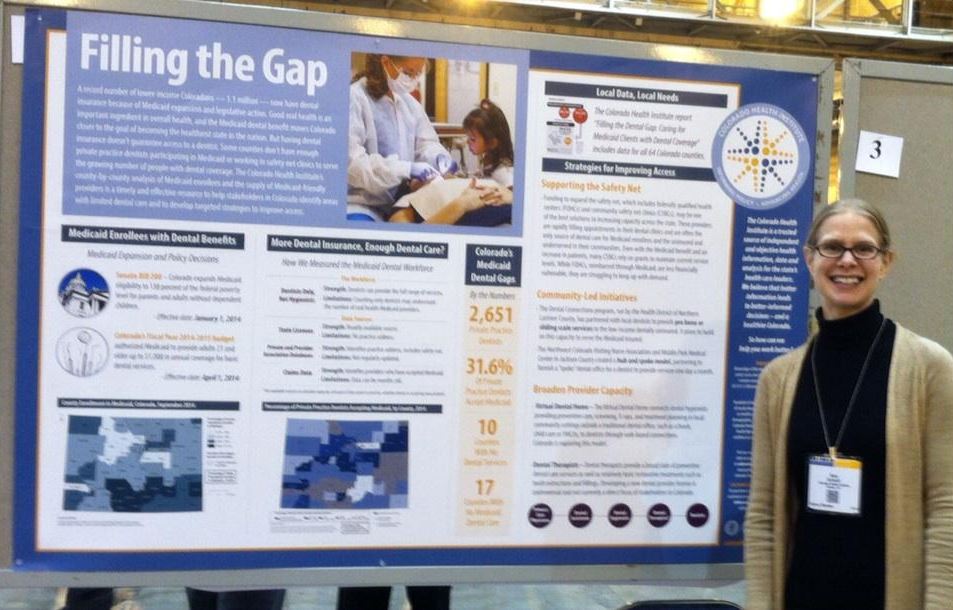 Also traveling this week is CEO Michele Lueck. Michele is in Winnipeg, Canada, attending a workshop titled "Evaluating Community Impact: Capturing and Making Sense of Community Outcomes."
The three-day workshop is being hosted by Tamarack, which focuses on community engagement, and is intended for those who are involved with evaluation work to learn about the latest ideas and practices in evaluation. Michele is attending the workshop with Karen Minyard, Director of the Georgia Health Policy Center.
Last, but certainly not least, registration for our Hot Issues in Health Care conference on December 4and December 5 will close this Thursday, November 20. Visit the Hot Issues page our website for the agenda and a link to registration.