It feels as though conference season is upon us. Colorado Health Institute staffers have been busy attending and presenting at conferences across the state.
Last weekend, research analyst Natalie Triedman presented CHI's new Colorado Health Access Survey (CHAS) poster at the 2014 Engaging Communities in Education and Research (ECER) in Vail. Below, Natalie and Senior Analyst Tasia Sinn display the new poster. You can view the poster on our website here.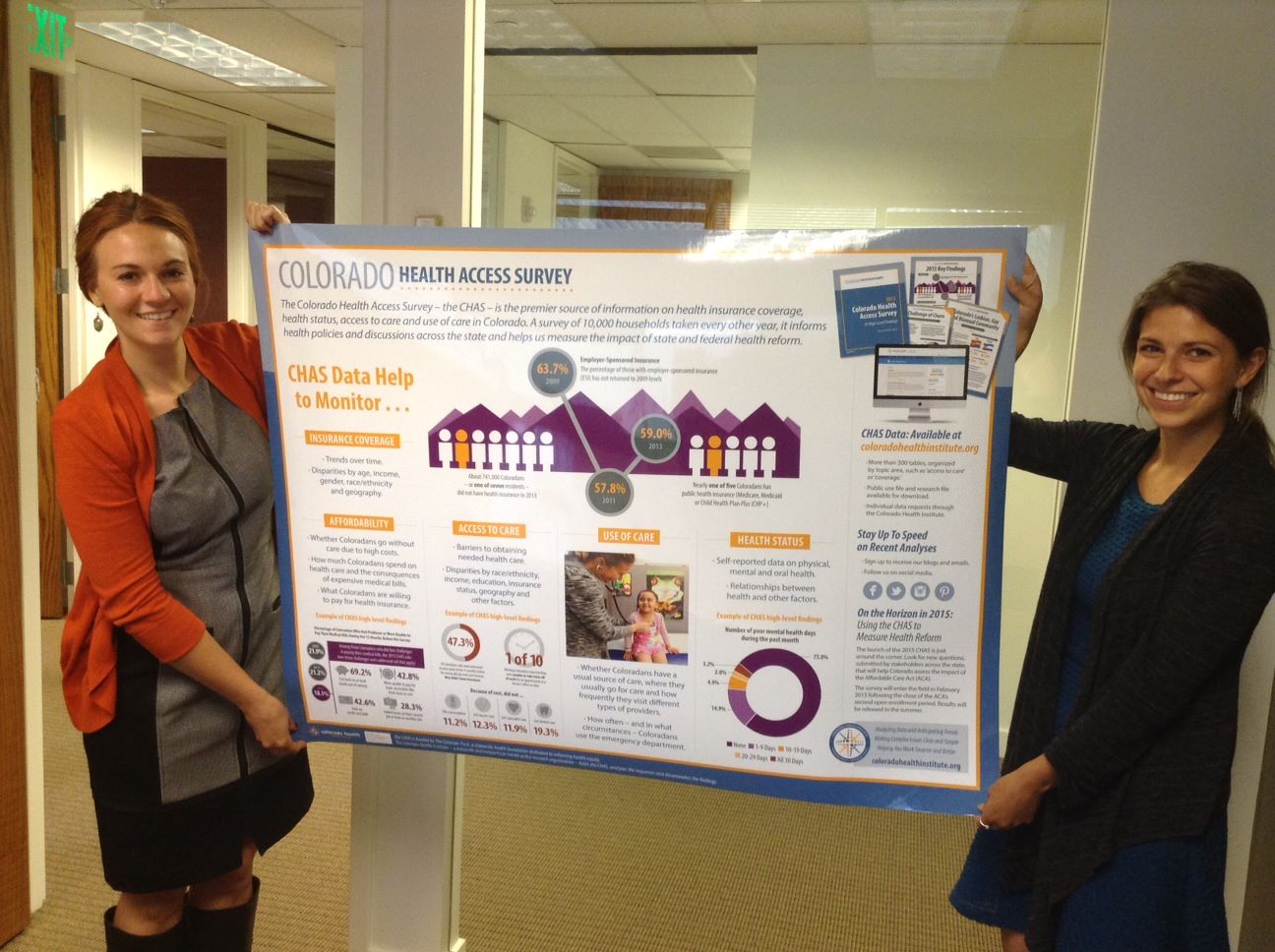 CEO Michele Lueck, who also attended the ECER conference, teamed with Natalie for a presentation on the health policy trends that CHI anticipates heading into 2015. Michele and Ben Miller, Director of the Office of Integrated Healthcare Research and Policy at the University of Colorado Denver School of Medicine, discussed Colorado's State Innovation Model (SIM) proposal in another presentation.
In Breckenridge, another of Colorado's beautiful mountain towns, Senior Analyst Anna Vigran attended the Colorado Behavioral Healthcare Council's annual conference on Saturday. Anna provided a series of tweets, which you can find on her Twitter, @CHI_AnnaV.
Senior Director for Policy and Analysis Amy Downs was a featured speaker Friday at Colorado Health Data Day, discussing CHI's role in helping to make sense of all the data now available.
Meanwhile, back at the office, CHI staff members received their presentation assignments for our 2014 Hot Issues in Health Care conference from Policy Analyst Allie Morgan, who is coordinating the conference. It's shaping up to be a jam-packed agenda.  
Space is filling up fast – be sure to register early!
We expect to release our School Based Health Center (SBHC) report, based on the annual survey, this week. The SBHC report analyzes data from the 2012-13 of all SBHCs. CHI fielded the survey at the request of the Colorado Association for School-based Health Care. For the first time, trended data and analysis from 2006 through 2013 will be available to the public. The report sheds light on the role of SBHCs, who they serve, they types of services they provide and how they are funded.
If you missed it, Policy Analyst Jessica Fern wrote an Insight last week delving into the ethnic gap in unhealthy beverage habits. And CHI issued a report by Senior Communications Expert Joe Hanel on Monday analyzing the 2015 health insurance rates approved by the Colorado Department of insurance. Joe also wrote a blog about the rates, which are an early indicator of how health reform efforts are working.