An ambitious new initiative from Rocky Mountain Health Plans and a number of partners aims to redefine how health care is provided and paid for in Medicaid, beginning with a pilot project on the Western Slope.
We received a briefing on the program at a recent learning lab for safety net providers hosted by the Colorado Health Institute. I'm excited to share the information from that session. But first, some background.
Rocky Mountain Health Plans, often referred to as RMHP, is one of seven Regional Care Collaborative Organizations in Colorado's Medicaid Accountable Care Collaborative (ACC). RMHP works with primary care providers in 22 counties to connect Medicaid enrollees to a patient-centered medical home, a place that coordinates all of their health care and provides access to preventive health services.
But while the ACC is taking important steps forward, it is still based on a fee-for-service payment system, which tends to encourage quantity of care by paying for each service and procedure.
The new pilot program is trying to change that. The Colorado Department of Health Care Policy and Financing (HCPF) last month selected RMHP's proposal for a payment reform test under House Bill 12-1281.
The proposal from RMHP is community-based, including mental health centers, hospitals, physician networks and clinics, and local public health agencies, as shown in this graphic.
<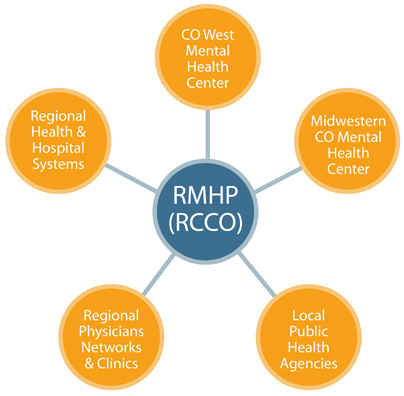 Here are some components I find particularly interesting about the plan, which features global payments, or fixed amounts, for care. The two-year pilot is scheduled to begin in January in Delta, Garfield, Gunnison, Mesa, Montrose, Pitkin and Rio Blanco counties.
<

RMHP, the health care providers, and Medicaid will share in the financial risk. If the patient costs less than the allocated global amount, the savings will be returned to Medicaid, RMHP and the primary care doctors and mental health providers. If caring for that patient costs more than anticipated, RMHP and the providers will share in the financial loss.
Any savings would be allocated by this formula: 30 percent to HCPF, 30 percent to the primary care providers, 30 percent to participating community mental health centers, and 10 percent to RMHP.
Behavioral health professionals are placed in primary care practices with the goal of integrating physical and behavioral health.
Health care providers involved in the program will use specific clinical interventions that focus on prevention or health improvement, such as depression screening or protocols for managing pain. These interventions are based on a model that accounts for the severity of both the patient's physical and behavioral issues.
The plan includes a system of checks and balances to ensure that patients still receive quality services. If there are savings, but quality goals are not met, all savings go to HCPF. This means taxpayers benefit from the savings, RMHP pointed out.
These quality goals include cholesterol management, screening for depression, establishing a follow-up plan for depression and screening for obesity. There are also goals related to how knowledgeable and confident a patient feels about his or her care, referred to as patient activation. The existing ACC goals of reducing costly services such as emergency room visits and MRIs will continue.
The pilot will target adult Medicaid enrollees, including individuals with disabilities and Coloradans who will become eligible for Medicaid for the first time on January 1 as part of recent legislation expanding the program. Notably, the plan also includes people who are enrolled in both Medicare and Medicaid, often called dually eligible, who have voluntarily enrolled in RMHP's existing Medicare HMO plan. These patients currently are not enrolled in the ACC.
The pilot will focus on Medicaid, but the goal is to eventually use the program to improve the health of the broader population in the seven counties, regardless of insurance.  
The proposal represents an important step forward in payment reform ideas and dialogue. It's designed to provide increased flexibility in rules and payment methods so that innovative care delivery can flourish, resulting in better health outcomes and lower costs.
I do hope that a rigorous, third-party evaluation is conducted. As health care costs continue to escalate and the Medicaid program gobbles up more of the state's budget, we owe it to ourselves to clearly understand the impacts of these experiments.