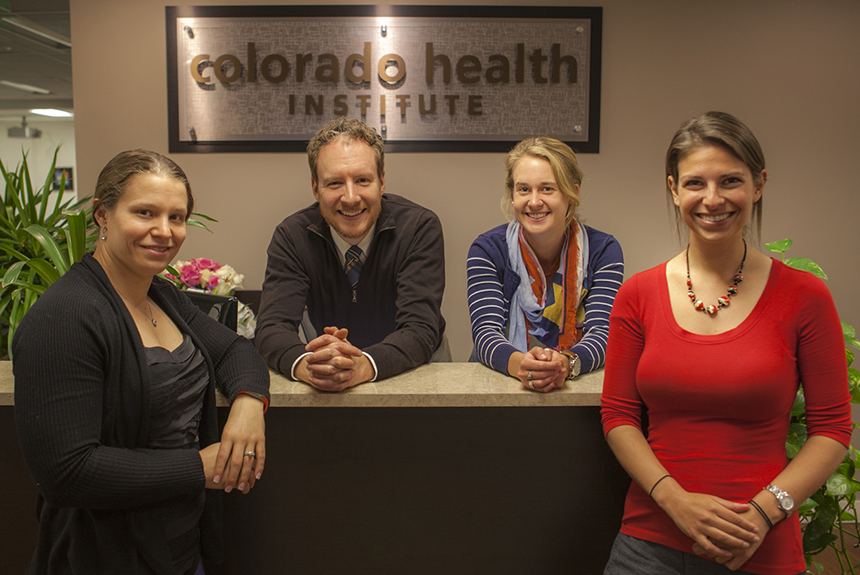 Left to right: Rebecca Silvernale, Jeff Bontrager, Maggie Bailey and Natalie Triedman.
It was 2006 and a young health policy analyst who had just started working at the Colorado Health Institute helped to launch an ambitious new project — systematically collecting and analyzing data about school-based health centers and other parts of the health care safety net.
Ten years later, that young analyst, Jeff Bontrager, is CHI's Director of Research on Coverage and Access. And he will receive an Inspiration Award on Thursday from the Colorado Association for School-Based Health Care (CASBHC).
Jeff is being honored for his leadership over the past decade in conducting the surveys and telling the important story of how school-based health centers care for our state's most vulnerable children.
Anyone who knows Jeff — and that's pretty much every single person in Colorado's health policy community, as far as I can tell — knows that he is passionate about providing the information and understanding that make it possible for organizations like CASBHC to do the best job of making Coloradans healthier.
The annual survey is conducted in partnership with CASBHC and funded by CHI as part of our community benefit mission.
"I'm glad that we can inform the discussion about what this really important model of care means for Colorado," Jeff told me.
More of Colorado's children are getting health care at school than ever before, CHI has found. And with support from Colorado lawmakers, the federal government and the state's health foundations, school-based health centers are poised for additional growth.
When Jeff started this project, little data existed about Colorado's safety net.
"This was the first time that I know of that we tried to get data from across all safety net providers," he said.
During those early days, Jeff was on the front lines, fielding the survey, doing follow-up calls, running the SAS statistical program and providing the analysis. These days he's supported by a strong team of his CHI colleagues, including Senior Data Analyst Becca Silvernale, Policy Analyst Natalie Triedman and Public Interest Fellow Maggie Bailey.
Jeff also works closely with the Colorado Department of Public Health and the Environment (CDPHE) and the leaders at CASBHC.
"It has been nice forming these relationships," he said, noting that his visits to school-based health centers in the metro area have been an added bonus.
Jeff's biggest challenge has been ensuring that the survey isn't overwhelming for time-strapped administrators at the school-based health centers.
"We try to balance the need for data with the burden on the school-based health centers," he said. "We understand that it's a big time commitment, but with a project like this we have to have 100 percent participation to reach meaningful conclusions and to tell the story."
CEO Michele Lueck speaks for all of us here when she says we're lucky to have Jeff working at CHI.
"He is a treasured community asset," she said. "It's great to see him getting this well-deserved award."