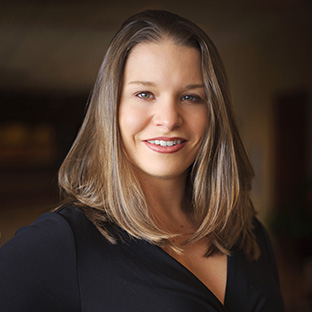 Favorite Quote
"Positive Attitude + Knowledge = Success" – Paul J Meyer
---
FAVORITE PLACE IN COLORADO
Collegiate Peaks Wilderness Area
---
FAVORITE ACTIVITIES
Exercising, hiking, sleeping
Rebecca Silvernale
Director of Operations
Rebecca Silvernale joined CHI as an intern in January 2006 and is now the Director of Operations. She leads the information technology (IT) department and oversees contracting, the operations of CHI, and the accounting/finance team. She works collaboratively with other staff members to ensure that CHI runs smoothly.
Rebecca is an alumna of Regis University, where she graduated cum laude with a bachelor's degree in mathematics. She received a master's degree in applied mathematics, focusing on applied statistics, from the University of Colorado at Denver.
Skills: Information technology, research operations and analysis, organization, adaptability
I Do This Work Because… I have a passion for helping people, creating systems, and keeping the trains running smoothly. Being part of this amazing team has truly been a pleasure. I also love having the opportunity to make an impact in this amazing state that we live in.