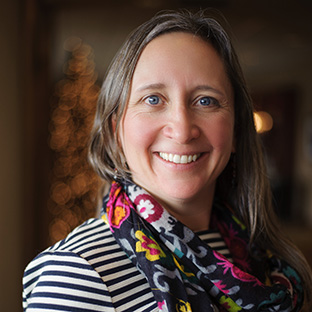 Favorite Quote
"In a gentle way, you can shake the world."
 
Mahatma Ghandi
Paige Backlund Jarquin
Senior Program Manager SIM Extension Service
Paige Backlund Jarquín, Senior Program Manager for the State Innovation Model (SIM) Extension Service, joined the Colorado Health Institute in April 2016. Paige supports regional health connectors (RHCs) and their host organizations throughout Colorado, as well as program development, training and evaluation activities.
Paige has worked in community-based public health for more than 15 years with various organizations including the Peace Corps, Planned Parenthood of the Rocky Mountains' (PPRM) Education Department, the Colorado Department of Public Health and the Environment (CDPHE) and the Colorado Clinical and Translational Sciences Institute's (CCTSI) Community Engagement and Research Program. Prior to joining the team at CHI, she worked at the Colorado Foundation for Public Health and the Environment (CFPHE) as an RHC in metro Denver.
Paige is on advisory boards for the PPRM Promotores de Salud program and the High Plains Intermountain Center for Agricultural Health and Safety (HICAHS). She also facilitates a veteran-run research engagement board with the Veterans Administration.
Paige earned a master's degree in public health (MPH), with a focus on community health education, from the Colorado School of Public Health in 2010. She expects to finish her Doctor of Public Health (DrPH) degree in community and behavioral health in 2016, also from the Colorado School of Public Health.
When not working, studying, or volunteering, you can find Paige hanging out with her partner and their two children, playing the guitar, and helping out on an organic farm.