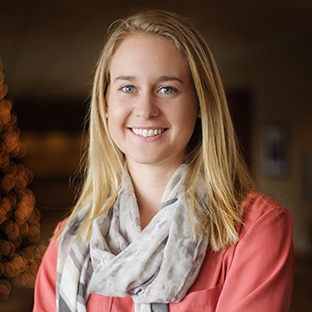 Favorite Quote
"I suppose if we couldn't laugh at things that don't make sense, we couldn't react to a lot of life."
Hobbes (Calvin & Hobbes)
Maggie Bailey
Research Analyst
Maggie Bailey, who joined CHI in June 2015 as the Public Interest Fellow from Colorado College, was promoted to Research Analyst in June 2016. 
Maggie graduated from Colorado College in May 2015 as mathematics major and Spanish language minor. Mathematics prepared her for a role in data research and analysis at CHI, having taken classes in statistics and statistical modeling.
Her thesis focused on stochastically modeling the spread of diseases in networks of sub-populations. Maggie hopes to apply her knowledge of mathematics towards research and statistical modeling during her year at CHI.
Maggie has previously worked with Rocky Mountain Youth Clinics in Aurora, which fostered her interest in understanding and advancing health care in Colorado.
While at Colorado College, Maggie was very involved in Ultimate Frisbee. She played all four years with the women's team, Lysistrata's Tools, and was a captain for her final two years. The team went to College Nationals her junior year in 2014, placing ninth in the country.
Maggie grew up in Denver and is happy to return to her roots for another year (at least).