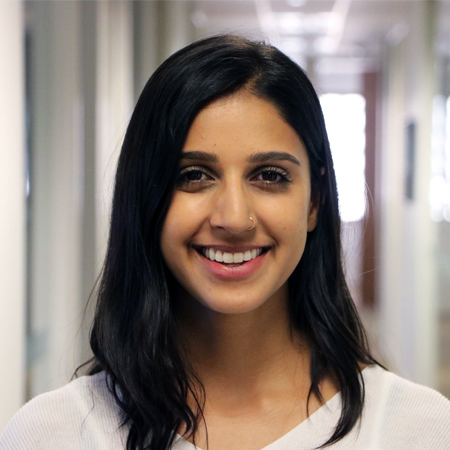 Favorite Quote
"A little nonsense now and then, is relished by the wisest (wo)men." –– Roald Dahl
Jasmine Bains
Research Analyst
Jasmine Bains joined the Colorado Health Institute in July 2019 as a Research Analyst.
She earned her master's degree in public health from the Colorado School of Public Health at the University of Colorado Anschutz Medical Campus in May 2019. There, she conducted geospatial analyses, assessed patients' views of communicating social and economic needs with their health care providers, and completed her capstone with Assuring Better Child Health & Development, a nonprofit focused on improving the lives of Colorado children through early identification of developmental needs. Before joining CHI, Jasmine was a community health assessment intern at the Colorado Department of Public Health and Environment.
As an undergrad majoring in integrative physiology, Jasmine served as the Global Health University Coordinator for GlobeMed, a national nonprofit organization. In the summer of 2014, she interned with Himalayan HealthCare in Nepal, GlobeMed at CU Boulder's grassroots partner, where she evaluated the sustainability of three programs: women's empowerment, income generation, and community education.
Jasmine's experiences have influenced her interest in health equity, access to healthy food, and built environments.
Outside of CHI, she teaches at CorePower Yoga and enjoys guiding her students through an intense physical workout rooted in mindfulness. Jasmine was raised in Colorado and spends her free time relaxing in her hammock, skiing on powder days, and cooking international foods.