Choosing to Grow in Uncertain Times
Dear friends of CHI,
Last year was full of questions.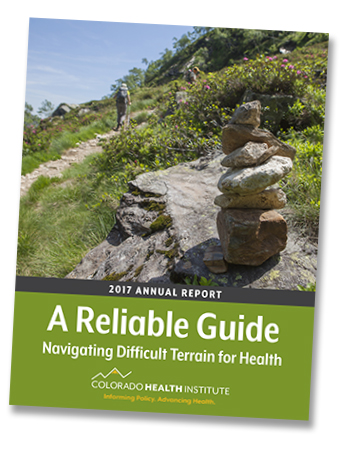 When January arrived, it looked like the Affordable Care Act — the cornerstone law of the past decade of health reform — was in its final weeks of life. CHI's analysts worked diligently to track developments in Congress in real time and project what each new ACA repeal bill would mean for Colorado. But as the year went on, repeal attempts failed and eventually ground to a halt, along with most congressional health policy.
We couldn't have done our work on ACA repeal and many other important topics without the support of our core funders — The Colorado Trust, Caring for Colorado, the Rose Community Foundation, the Colorado Health Foundation and Kaiser Permanente.
Still, the health policy stalemate had us concerned. We provide evidence-based policy research. At times during the past year, it seemed that policy — much less evidence-based policy — was not a priority for political leaders. Does anyone care anymore about making good policy?
The answer is a resounding yes. The Colorado Health Institute had our busiest year ever in 2017 because we understand that health policy happens everywhere — not just in the halls of Congress. Health providers and government agencies sought out our experts for important projects using medical records for public health decisions, surveying the state's substance use prevention efforts, evaluating Medicaid benefits for substance use treatment, and connecting clinical care to social resources in the community, just to name a few.
At the same time, we are taking care to keep our public benefit mission as our top priority. We make our core research available for free to the people of Colorado. If we learned one thing from 2017's debate over ACA repeal, it's that Coloradans care deeply about their health care system and the policy that underlies it. You can count on CHI to be here to answer the most pressing questions Colorado faces.
To your health,

Michele Lueck
President & CEO 
---
Previous Annual Reports
Think of the files below as our collection of high school yearbooks. Browse around and see how we looked.
Check out that red and lime green logo from 2005!
2016  |  2015  |  2014  |  2012  |  2011  |  2010  |  2009  |  2008  |  2007  |  2006  |  2005