The amount of time kids are spending behind the screen – and not for homework – is increasing, with nearly a third of teens spending three or more hours a day on the computer or playing video games. One opportunity to increase physical activity may be by walking or biking to school. Half of teens say they could walk or ride a bike, scooter or skateboard to school, but only 20 percent actually do – a finding reported in the latest brief of the Colorado Health Report Card, a collaborative effort between the Colorado Health Institute and the Colorado Health Foundation.   
And what better time to work on bringing up that 20 percent rate than this month, which is National Bike to School Month?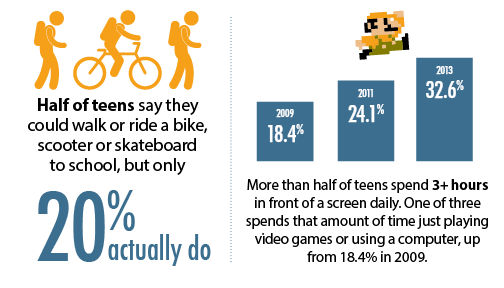 Biking to school is a great way for kids to build physical activity into their daily routines while forming healthy habits at a young age. Not only is biking to school a fun and healthy activity, it benefits the community by reducing traffic and boosting neighborhood connections. 
But sometimes it's hard for kids to bike to school. For example, five percent of Colorado teens say they didn't go to school at least once in the past 30 days because they felt unsafe, either on the way or when they got there. Others may find it too far, there may not be sidewalks, or there may not be enough crossing guards. 
The Colorado Safe Routes to School program promoted and encouraged kids to bike or walk to school, but a bill to continue the program recently failed in the Senate State Affairs Committee. In 2014, the program made improvements to infrastructure, such as installation of crosswalks, and taught kids safe riding practices. 
Although video games may be fun, biking outside is fun too. Making it easier and safer for kids to be active could be an important step in increasing rates of physical activity for Colorado's teens and kids.