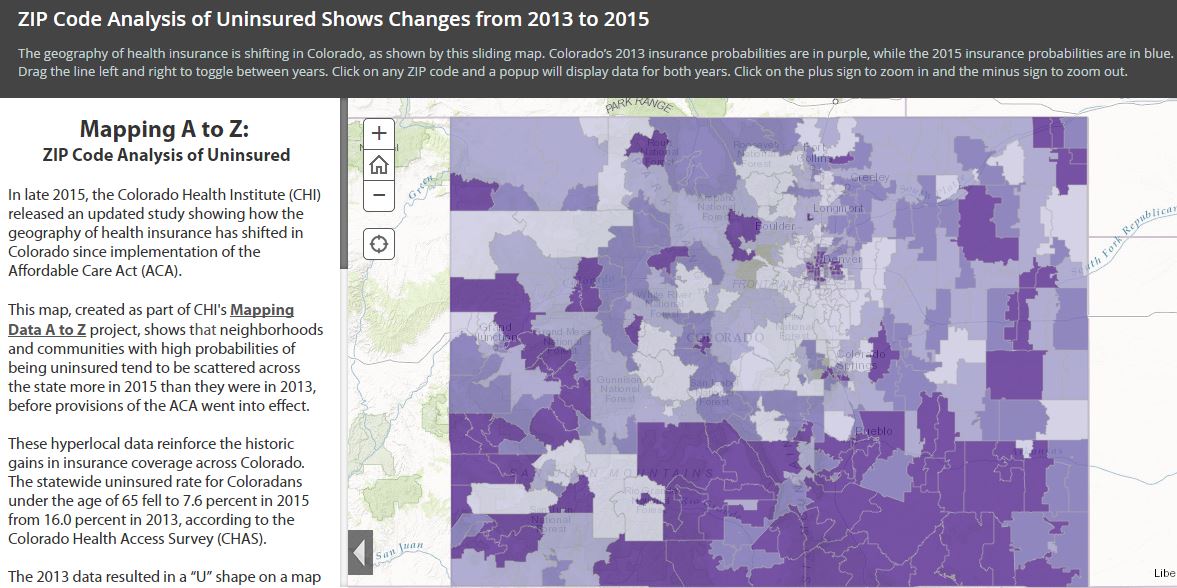 In late 2015, CHI released an updated study showing how the geography of health insurance has shifted in Colorado since implementation of the Affordable Care Act (ACA). 
An analysis of ZIP code-level data by the Colorado Health Institute (CHI) found neighborhoods and communities with high probabilities of being uninsured tend to be scattered across the state more in 2015 than they were in 2013, before provisions of the ACA went into effect.
These hyperlocal data reinforce the historic gains in insurance coverage across Colorado. The statewide uninsured rate for Coloradans under the age of 65 fell to 7.6 percent in 2015 from 16.0 percent in 2013, according to the Colorado Health Access Survey (CHAS).
The 2013 data resulted in a "U" shape on a map of the state, with ZIP codes with the highest probabilities of being uninsured clustered in southern Colorado and climbing up both the Western Slope to Garfield and Mesa counties and up the Eastern Plains to Sedgwick in the far northeast corner. The 2015 data, however, show that ZIP codes with the highest likelihood of being uninsured are more dispersed.
The largest cluster of high-probability ZIP codes is still found in Baca and Las Animas counties in the state's southeast corner. But some areas that had high probabilities of uninsurance in 2013, such as the San Luis Valley, now have some of the lowest probabilities. The primary explanation for the significant shift is that many San Luis Valley residents are low-income, and they qualified for Medicaid coverage when Colorado expanded eligibility in 2014. 
The 2013 data show that ZIP codes with the lowest probabilities of uninsurance were mostly in the Denver metro area. While two ZIP codes in the foothills west of Denver still have the lowest probabilities in the state, the lower probabilities are more spread across the state in 2015. 
Policy changes designed to increase coverage helped to spur this new pattern, including the Medicaid expansion for adults at or below 138 percent of the federal poverty level (FPL) and tax subsidies for health insurance consumers up to 400 percent FPL.
You can read CHI's analysis of the ZIP code level data in Uneven Progress: 2015 Health Insurance by ZIP Code in Colorado. You'll also find an interactive map with data for all Colorado ZIP codes in CHI's interactive story map.
Like what you see? Stay tuned for more ZIP code-level analyses coming out later this year. CHI will continue to "zoom in" on health trends, identifying patterns in access to care at the local level. This close-up helps to inform our research and the work of our community partners.