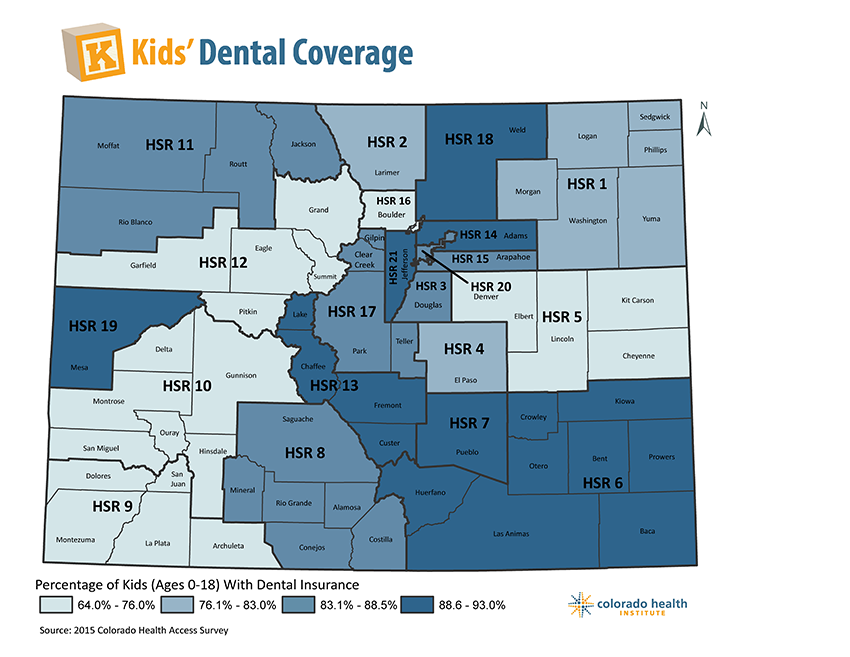 I recently spent several days in the high country. The views took my breath away, and I enjoyed talking with residents I met on trails and in coffee shops. The region is a gem in our beautiful state — except when it comes to dental insurance for kids.
One in three children under age 19 in Eagle, Garfield, Grand, Pitkin and Summit counties lack dental insurance — the lowest rate in the state. Meanwhile, in Weld County nine in 10 children (92.5 percent) are covered – the highest rate in the state.
As I shared in an earlier CHAS insight, the percentage of Colorado kids with dental insurance is at its highest point – nearly 85 percent of children and youth under age 19. But dental coverage looks very different depending upon where you live.
The Eastern Plains counties of Cheyenne, Elbert, Kit Carson and Lincoln and those in HSR 10 in southwestern Colorado are also below average, with respective 70.8 percent and 74.2 percent of children covered. Pueblo County ranks second highest for coverage (91.8 percent), just above Adams County (90.6 percent).
Most public and private health plans cover pediatric dental benefits. Not surprisingly, the geographic patterns of dental coverage align with health plan enrollment. In Pueblo and Weld counties, over 98 percent of children eligible for Medicaid are enrolled.  Less than half (48.2 percent) of eligible children in Pitkin County are enrolled in the public insurance program.
Dental insurance matters. Kids with coverage are more likely than those without it to receive dental care. Preventive treatments, including fluoride, sealants and cleanings, are often covered without cost, setting up a child for a lifetime of good oral health.  
Interested in learning more about oral health? Download the Colorado Health Access Survey oral health data workbook for data from 2009 to 2015 by age, gender, ethnicity, insurance, education and income. Email CHAS@coloradohealthinstitute.org with questions about the data or for additional information requests.