The Colorado Health Observation Regional Data Service (CHORDS) is a seven-county regional network in the Denver metro area that uses electronic health record data to support public health evaluation and monitoring efforts. It began in 2011. Currently, 12 health care provider organizations contribute data.
CHORDS provides timely, location-based information on population health measures to help answer questions such as What neighborhood has the highest rate of tobacco use, or of depression? Each health care organization retains full control over its patients' data and information cannot be traced back to individual patients.
In 2016, the Colorado Health Foundation awarded a two-year, $1.9 million grant to the Colorado Health Institute (CHI) with the goals of expanding the number of public health agencies using CHORDS from one to six and bringing on additional health care and mental health providers to contribute data. These include local public health agencies representing Adams, Arapahoe, Boulder, Broomfield, Denver, Douglas and Jefferson counties, as well as the University of Colorado Denver Adult and Child Consortium for Outcomes Research and Delivery Science (ACCORDS), Denver Health and CORHIO, Colorado's largest health information exchange network.  
CHORDS data contributors are: Children's Hospital Colorado, Clinica Family Health, Clinica Tepeyac, the Colorado Alliance for Health Equity and Practice (CAHEP), the Colorado Coalition for the Homeless, Denver Health, High Plains Community Health Center, Jefferson Center for Mental Health, Kaiser Permanente Colorado, Mental Health Center of Denver, Metro Community Providers Network and Salud Family Health Centers.
The network's efforts have been recognized by various media outlets, such as the Denver Post, Healthcare Informatics and MeriTalk.
How Can I Learn More?
The project is always looking for new partnerships with both data contributors and data users. If you are interested in participating or would like more information about CHORDS, please contact Sara Schmitt, Director of Community Health Policy at CHI, at 720.382.7081 or schmitts@coloradohealthinstitute.org. 
An overview of how CHORDS works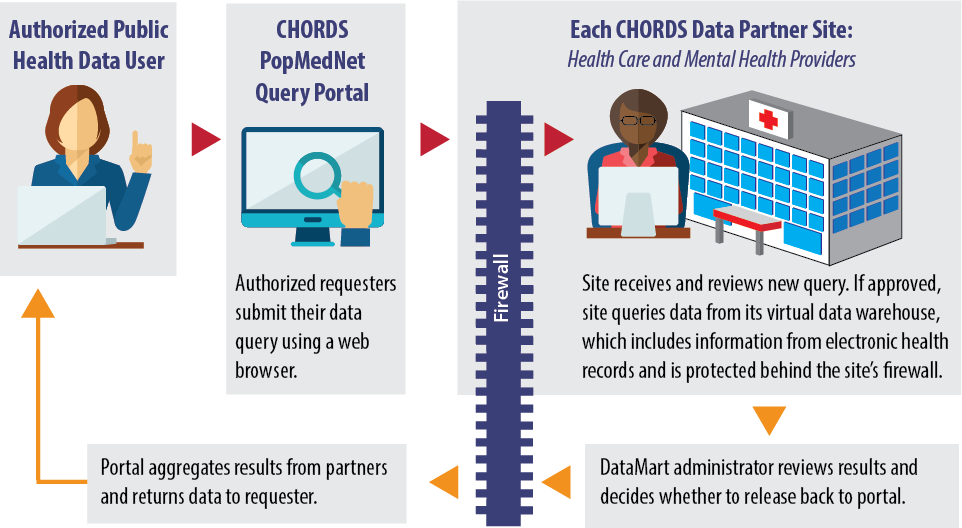 Governance Committee Meeting Agendas