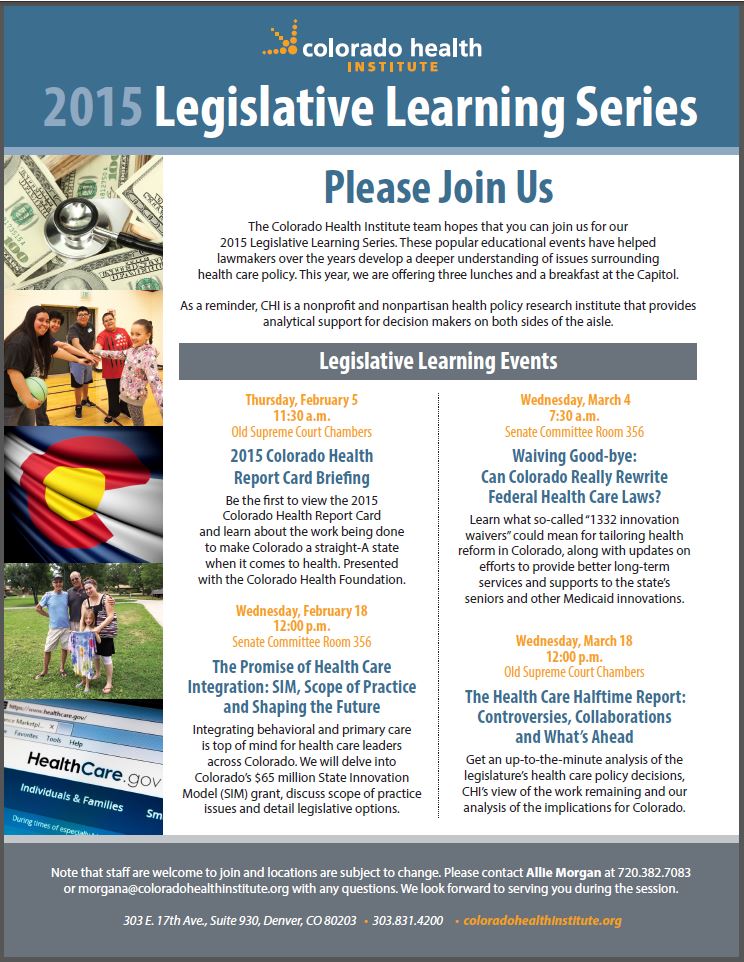 The 2015 Legislative Learning Series continues CHI's tradition of providing useful and evidence-based information for state legislators.
These popular educational events have helped lawmakers over the years develop a deeper understanding of issues surrounding health care policy.
This year, we are offering three lunches – Lunch and Learn – and a breakfast – Links and Learn – at the Capitol.
For 2015, the series includes an exclusive briefing for lawmakers on the 2015 Colorado Health Report Card, a discussion of the move toward integrating primary care and behavioral health care, an explanation of available federal waivers to tailor the Affordable Care Act and the Medicaid program to Colorado's needs, and a halftime report about the hottest health care issues of the session.
Serving as a non-partisan source of data and analysis for Colorado's health care leaders is part of the Colorado Health Institute's mission.
Policy Analyst Allie Morgan is CHI's legislative liaison. You may reach her at morgana@coloradohealthinstitute.org or at 720 382-7083.
Watch Our Presentations:
Check out our latest recorded presentations "Waiving Goodbye: Can Colorado Really Rewrite Federal Health Care Laws?" and "Health Care Halftime Report: Controversies, Collaborations and What's Ahead"