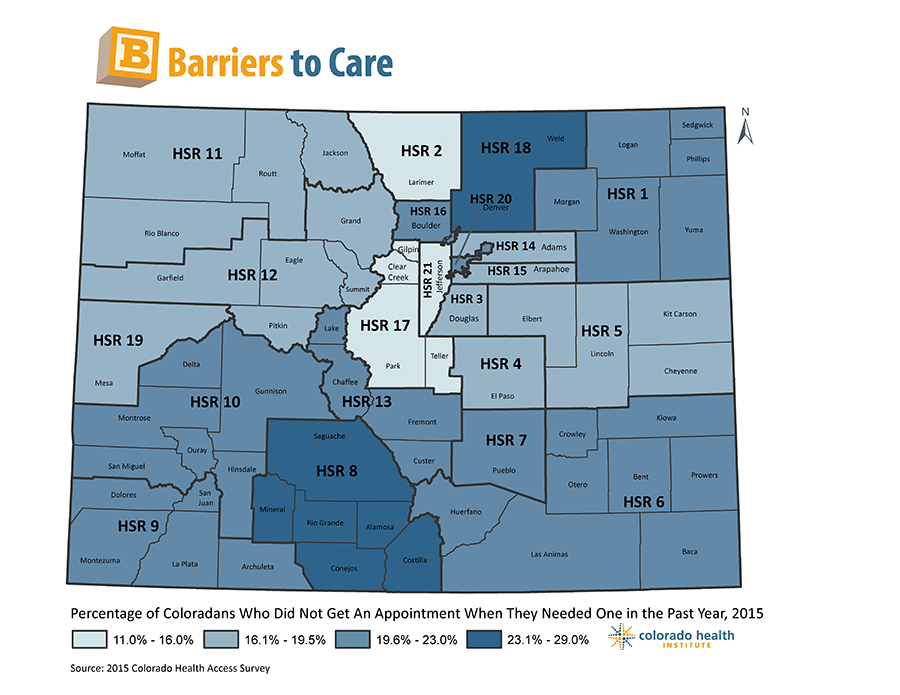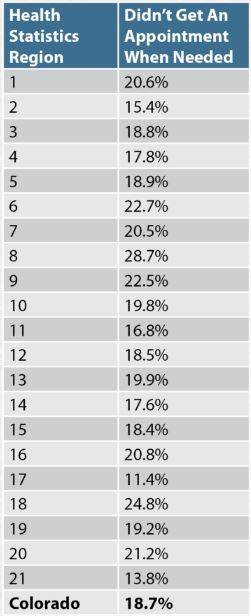 A healthy breakfast to start the day? Check.
Regular exercise? Check.
Health insurance? Check.
A doctor's appointment when you need one? Not so much if you happen to live in Weld County or the San Luis Valley.
Nearly 29 percent of residents of the San Luis Valley counties of Saguache, Mineral, Rio Grande, Alamosa, Conejos and Costilla reported that they could not get an appointment with a physician when they needed one in the past year, according to the 2015 Colorado Health Access Survey (CHAS). That's the worst rate in the state.
One of four residents in Weld County said they couldn't get an appointment when they needed one, the second worst rate.
Rounding out the five regions where it's toughest to get an appointment: the southeastern corner, the Four Corners region and Denver County.
Clearly, the state's rural residents often encounter a roadblock to health when they try to make a doctor's appointment. But it's nearly as tough in the urban Denver area and heading north on Interstate 25 into Weld County.
A number of reasons could explain why some Coloradans experience more difficulty than others in getting timely care, including: an inadequate number of licensed health care providers in a particular area; not enough providers who will accept a particular type of insurance, such as Medicaid; and an influx of insured residents, which Colorado experienced with the launch of the Affordable Care Act.
On the other side of the equation, residents of a region just west of the Denver metro area — Gilpin, Clear Creek, Park and Teller — report the least trouble getting a timely appointment, with 11.4 percent falling into this category.
Other regions that made the "top five" list of places where it's easiest to get a timely appointment: Jefferson County, where 13.8 percent of respondents said they couldn't get an appointment when needed; Larimer County (15.4 percent); the northwestern counties of Moffat, Rio Blanco, Routt and Jackson (16.8 percent); and Adams County (17.6 percent).
Interested in learning more about access to care in Colorado? Make sure to check out CHI's Access to Care Index as well as the Barriers to Care Data Workbook.
This is the second Insight in a Colorado Health Access Survey series called Mapping Data A to Z. Read more about the project here.