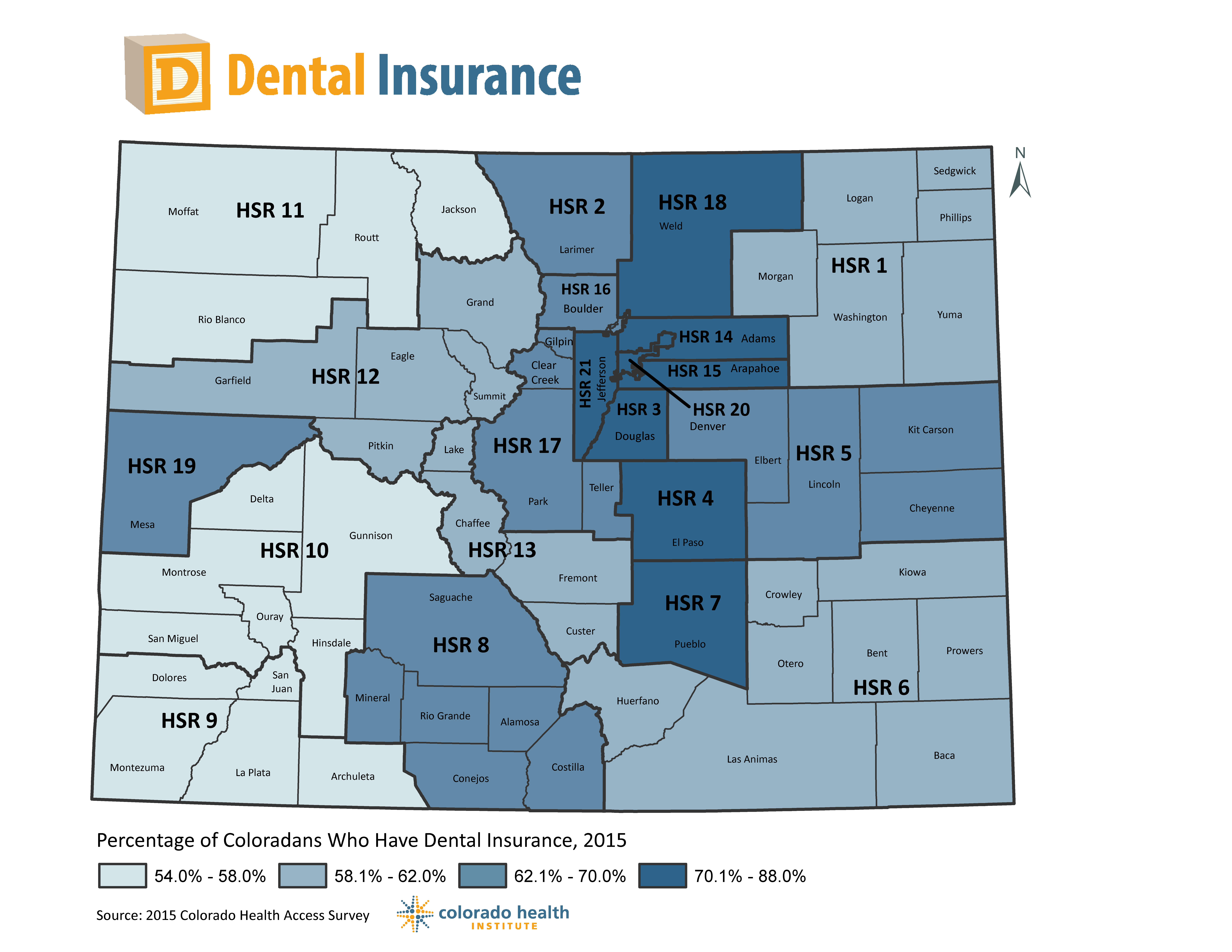 Prior to 2013, the percentage of Coloradans with dental coverage hovered stubbornly around 60 percent. But then came the Affordable Care Act and Colorado's subsequent decision to expand Medicaid and add an adult dental benefit, and boom! From 2013 to 2015, Colorado dental insurance rates rose nearly 10 percentage points. More than 70 percent of Colorado residents now report having dental insurance. 
Uneven Progress
But this progress looks different in different parts of the state.
Regions 9 and 10 in the southwest corner of the state have the lightest blue shading, indicating that fewer than 58 percent of residents report having dental coverage. The northwest corner of the state, Region 11, which includes Moffatt, Rio Blanco, Routt and Jackson counties, also posts low rates of dental coverage, below 58 percent.
Meanwhile, urban areas, including the Denver Metro region, report the highest rates of dental coverage, indicated by the dark blue shading. Topping the charts is Douglas County, Health Statistics Region 3, where 87.1 percent of residents report having dental insurance.
And coverage is just the first step…
Having dental coverage — and understanding that coverage — is a gateway to actually accessing dental services. The majority of Coloradans, 68.3 percent, see a dentist annually.
But we know that people with dental insurance are more likely to seek out dental services. Statewide, 77.9 percent of Coloradans with dental insurance reported going to the dentist in the past year compared with 46.5 percent of Coloradans without dental insurance.
What prevents Coloradans from visiting the dentist?
More than 17 percent of Coloradans skipped dental care due to cost in 2015. While this is a drop from the 19.3 percent of Coloradans who skipped dental care due to cost in 2013, the decrease isn't as large as we would expect given the massive uptake in dental coverage since 2013. CHI will continue to monitor the impact of dental coverage and look at the concept of dental underinsurance — when dental insurance plans require high out-of-pocket costs for care.
Looking Ahead
However, it may be too soon to map these data and draw conclusions about the impact of policy changes aimed at increasing dental insurance. Colorado took big steps in expanding eligibility for Medicaid and adding an adult dental benefit, but these changes do not happen overnight, and they won't be reflected neatly in the first round of data post-implementation. As more Coloradans learn they are eligible for these benefits, enroll and become familiar with their coverage, this map — and the patterns it depicts — are likely to evolve.
Using the Data
 You can read our analysis of the 2015 Colorado Health Access Survey to learn more about this and other important issues in our state. And email CHAS@coloradohealthinstitute.org with questions about the data or for additional information requests.