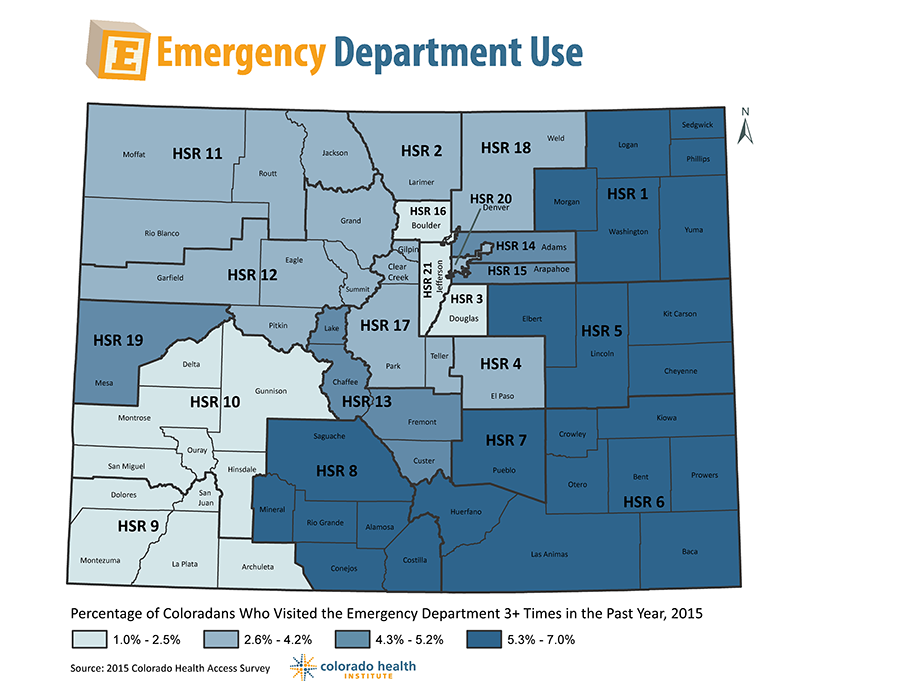 Given all the attention Colorado's emergency rooms have received in the past few legislative sessions, it's fair to ask whether our state's emergency department use has become an emergency.
The answer, in large part, depends on where you live.
The Colorado Health Access Survey (CHAS) asks respondents about their emergency department (ED) use. Overall, 3.7 percent of Coloradans used the ED three times or more in the year before the survey. We decided to look at this measure because it signals potential overuse, which could be a sign of deeper systemic issues.
On the Eastern Plains, HSR 5 (Elbert, Lincoln, Kit Carson and Cheyenne counties) stands out for having 6.6 percent of residents who visited the ED three times or more in the past 12 months, the highest rate in the state.  
Conversely, only 1.4 percent of Douglas County residents used the ED three or more times over the same period of time.
So what is going on?  Are there really more medical emergencies on the Eastern Plains?
Probably not. And here are some of the reasons why that might be:
What's an emergency?  Visits to the ED come in different shapes and sizes. EDs can handle everything from traumatic accidents to common ear infections – and much more in between.  That's why attention is being paid to preventing avoidable ED visits as a way to reduce overall systems costs.
What else is available?  Often, particularly in rural areas, there are few alternatives to the ED. Contrast that to more affluent, suburban areas with lots of doctor's offices, convenient care sites (like Walgreen's Health Clinics) and urgent care facilities. Many rural counties have challenges recruiting and retaining primary care and specialist clinicians, so chances are the ED may be your only choice whether you get in a car accident or have the flu.
Colorado is appropriately concerned about ED utilization as a costly component of the health care system.  During this legislative session we saw attempts to encourage first responders to administer more health care (and in doing so, keep people out of the ED) and to curtail free-standing emergency room expansion.
It's important to understand these complexities as leaders try to solve the problem of emergency department use before it becomes an emergency itself.