The Colorado Health Institute team is entering this week with momentum from last week's launch of the 2015 Colorado Health Report Card, produced in partnership with the Colorado Health Foundation. Nearly 40 legislators attended Thursday's legislative launch of the report.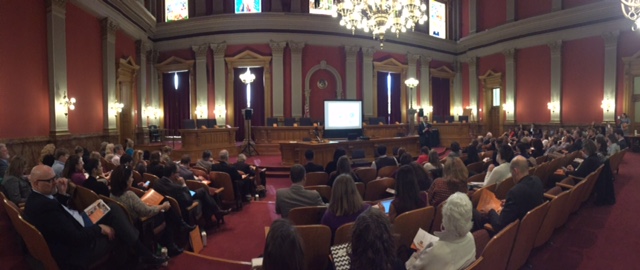 What did the 2015 Report Card show? Slow but steady progress.
Two groups – adults and seniors – improved their rank from last year. Adults went from a B to a B+. Seniors earned an A-, the highest grade of any life stage. However, Colorado's babies and children remain behind, both with C grades for 2015. Teens stayed the same as last year with a B.
The data allow us not only to compare grades across age groups, but also how Coloradans of different backgrounds fair on the measures. For example, adults earning less than $10,000 per year are three times more likely to report poor mental health than adults with annual incomes of $75,000 or more.
You can read the Report Card in its entirety here. For in-depth data on each life stage, visit our data repository.
A team of four CHI'ers is in Washington, D.C., this week at Academy Health's National Health Policy Conference. Michele Lueck, President and CEO; Deb Goeken, Senior Director of Operations and Communications; Amy Downs, Senior Director for Policy and Analysis; and Jeff Bontrager, Director of Research on Coverage and Access, are representing CHI at the two-day event.
Breakout sessions will focus on Affordable Care Act implementation including payment reform, quality measurement and delivery administration. You can follow the team on Twitter for updates from the conference: Jeff (@CHI_Bontrager), Michele (@MicheleLueck) and Deb (@CHI_DebGoeken).
Back in the office, we are focusing on new publications that are almost ready for prime time.
Later this week, we will release a brief about education and its tie to health. The brief is the latest in our 2013 Colorado Health Access Survey "Survey Snapshot" series.
Sara Schmitt, Director of Community Health Policy, and Research Analyst Hannah Wear are putting the finishing touches on a paper analyzing the oral health workforce serving the Medicaid population in Colorado. The paper is a follow-up to last year's More Dental Insurance: Enough Dental Care? Look for the finished product in the coming weeks.
Senior Communications Expert Joe Hanel attended Monday's meeting of the Colorado Commission on Affordable Health Care at Regis University. The agenda included a discussion of the commission's budget and plans for a statewide tour, among other items. Check out Joe's recaps of past meetings here and follow commission news on Twitter using the hashtag #COCostComm.