4.5 million.
14,000.
61.
38.
What do these numbers have in common? Together they help to paint a picture of the past decade at the Colorado Association for School-Based Health Care (CASBHC) under the leadership of Debbie Costin.
Costin, who took over as executive director of CASBHC in 2007, retired on February 1.
Over that time, the number of school-based health centers across Colorado increased 60 percent, climbing from 38 to 61. The number of students receiving services jumped 62 percent from 20,964 in the 2006-07 school year to 34,042 in 2013-14. And legislators approved $4.5 million from the general fund to support health centers in schools and fuel their growth.
Here at the Colorado Health Institute, we are proud to say that we have worked with Costin many times across those years, collaborating on the annual School-Based Health Center Survey. In fact, the next survey will be published this spring. So we have seen first-hand how her passion for increasing the access to health care for children in underserved communities has made a difference.
School-based health clinics have been shown to play an important role in improving the health of students – and their performance in class. The students served by the school clinics often are financially vulnerable or live in areas with few health care providers.
When Costin assumed the helm at the association in 2007, Colorado's school clinics were often cramped or outdated, and many eligible students weren't taking advantage of the health services.  Much has changed on her watch.
The growth in the number of school health centers – and the number of students served – has been impressive. And the extra state dollars provided needed repairs to centers, supported transportation assistance and funded additional staff. Services have expanded to include oral health care, a huge benefit for students.
There is still work to do. Costin says the need for mental health services is huge, and funding is tight.
That will be a task for Bridget Beatty, who is taking over as executive director. Costin knows she has left the association in good hands. "Bridget is so bright, organized and energetic. I have no doubt that she will bring in creative energy to the field," she says.
The entire CHI team wishes Debbie Costin the best of luck with the adventures and opportunities that await her. And we thank her for her hard work on behalf of Colorado's kids.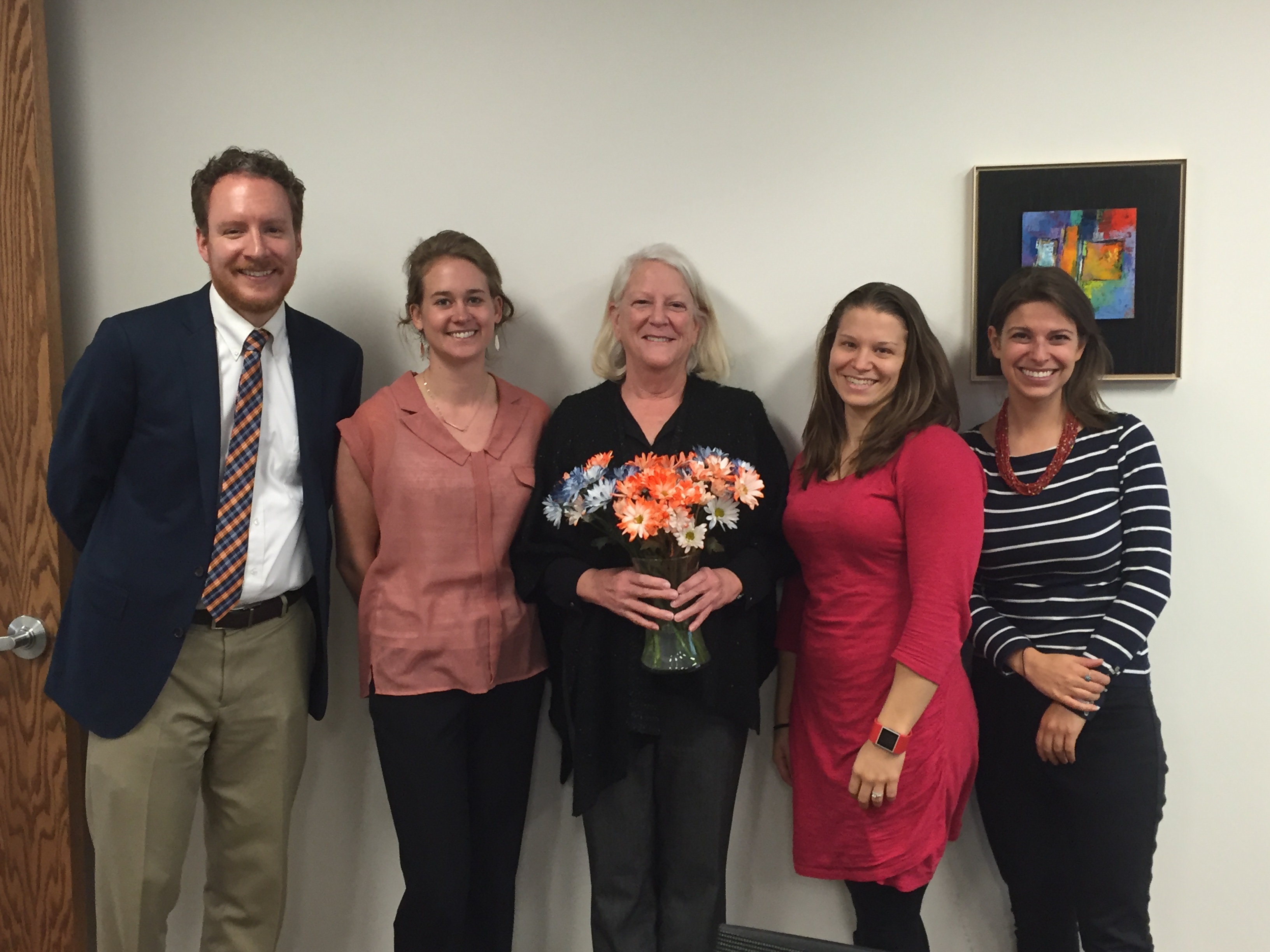 Debbie Costin, center, is shown during a January 27 meeting at CHI with the School-Based Health Center team at CHI (from left) Jeff Bontrager, Maggie Bailey, Rebecca Silvernale and Natalie Triedman.