At our Monday morning huddle, president and CEO Michele Lueck took a few moments to celebrate our accomplishments of the past few weeks – and to honor several team members who went "above and beyond" to make it all happen.
Last week saw the launch of the 2013 Colorado Health Report Card. The Report Card, a collaboration between the Colorado Health Foundation and the Colorado Health Institute, is an annual look at Colorado's performance on 38 health indicators across five life stages. The launch was at History Colorado, with leaders from across the state in attendance. You can read research analyst Natalie Triedman's blog for more on new additions to the 2013 Report Card and how it can be used as a policy tool.   
Though the report card is out the door, we are still busy preparing for the upcoming weeks. This weekend, senior analyst Tasia Sinn will be presenting to a group at Allied Jewish Health on how to access long-term services and support (LTSS) during You Only Live Once – a conference and resource day for seniors and family members. You can find Tasia's LTSS work here. Senior analyst Rebecca Alderfer is getting ready for a number of upcoming presentations, including a presentation to the Colorado Hospital Association.
Research assistant Kevin Butcher is hard at work on our retail marijuana issue brief, which is set to come out in late April. The brief will look at the new retail marijuana industry through a health policy lens.
CHI was out and about this weekend at the Association of Health Care Journalists' 2014 Health Journalism conference in Denver. Deborah Goeken, senior director of operations and communications, and Anna Vigran, senior analyst, spent the weekend spreading the word about CHI and attending some great sessions. See Deb in action below.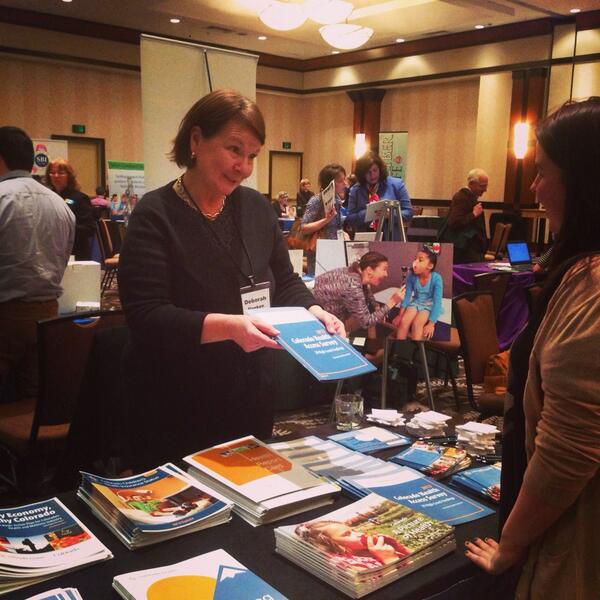 Our 2014 update for adults who are eligible for but not enrolled in public insurance is underway. We expect the report to be out in early May, but until then you can read the Colorado children's health insurance fact sheet and data supplement. Research analyst Natalie Triedman and research assistant Tamara Keeney will give a presentation on the children's report to a group at All Kids Covered on Friday.
With only five weeks left in the legislative session, things are heating up at the Capitol. Read Kevin Butcher's latest Legislative Roundup for all health care bills and watch for Megan Lane's blog later this week delving into what the proposed budget means for health and health care.
This week, we will release the first of our 2013 Colorado Health Access Survey (CHAS) Survey Snapshots. The series of quick-reads will use CHAS data to provide a brief look at a number of topics – including social determinants of health, aging, views on the health care system and LGBTQ health – to provide insight and analysis. First up will be Jeff Bontrager's Snapshot of Coloradans who changed insurance status during the 12 months prior to the survey.  Check us out on Twitter @CoHealthInst and on Facebook for the release of Jeff's Snapshot.