Me and two of my fellow Regional Health Connector staff — Ashlie Brown and Paige Backlund Jarquín — hit the road in May, traveling a combined 2,730 miles around Colorado to share information about this new program and to hear from communities about their health priorities.
Regional Health Connectors (RHCs) are a new workforce in Colorado that connect primary care practices and local resources to ensure communities have systems that enable residents to be healthy both in and outside the clinic setting. Our trips across Colorado provided an opportunity for the RHC program staff to talk directly with the people who matter most — individuals and members of organizations who are doing the hard work of coordinating local data, projects and partnerships to improve health in their regions and the state. 
The three of us gave 15 presentations, including three webinars for those unable to meet face-to-face. We went to 10 counties, each in different regions, in all four corners of the state. We traveled by rental car to Rocky Ford and by plane to Durango. It was a whirlwind, yet the program staff kept each other on track and organized. We are more confident than ever in our ability to support the RHCs.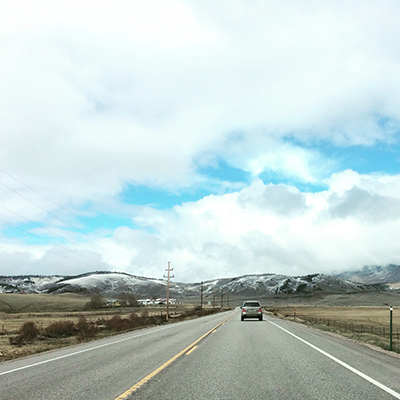 Appreciating the view during one of our many drives over Kenosha Pass.
During the Road Show, we gathered important feedback from partners that informed the final Request for Proposals, which were due July 1, and continues to shape RHC program development. Here are our three key lessons from the road:
1. Local partnerships have been connecting for a long time – and they're good at it. 
When we began planning the Road Show, we anticipated spending a lot of time reaching out to various stakeholders and organizing meetings to bring groups together. But we found that local partners already had regular meetings with each other. In each community, we learned about unique partnerships between providers and care coordinators; public health systems and programs; local, regional and state governments; community-based organizations; and other systems designed to improve health. 
2. Partners who are engaged in the work of coordinating and aligning clinical care, community resources and population health improvement are ready to support the RHCs. 
Our conversations clarified what activities should be a priority for the RHCs. Many communities have identified their focus areas, so RHCs in those places won't have to recreate work that has already been done. Instead, RHCs and their partners will develop and implement a plan to address the already-identified health priorities that matter most to residents.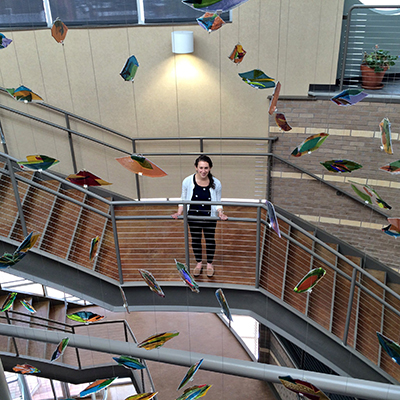 Rebecca admires glass artwork suspended from the ceiling of the Pueblo City-County Health Department building after a community meeting.
3. The Road Show wasn't all business – we had some fun, too!
Colorado is famous for its beautiful places and spaces, and the Road Show was an amazing opportunity to get outside and appreciate our state. However, during a busy month of traveling, there were some days that hot coffee and great food was what we most appreciated. Our favorite spots for a cup of joe included Big Shooter Coffee in Kremmling and Milagros Coffee House in Alamosa. For good eats, we recommend Sweetie's Sandwich Shop in Salida and Fiesta Jalisco in Craig.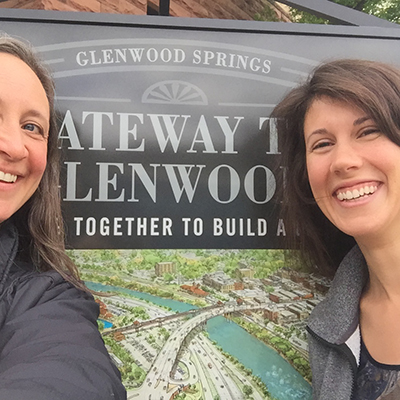 Ashlie and Paige explore Glenwood Springs during the Northwest Colorado Road Show.
We look forward to seeing all of our friends across Colorado again after local organizations are selected to host the RHCs in their communities this August.