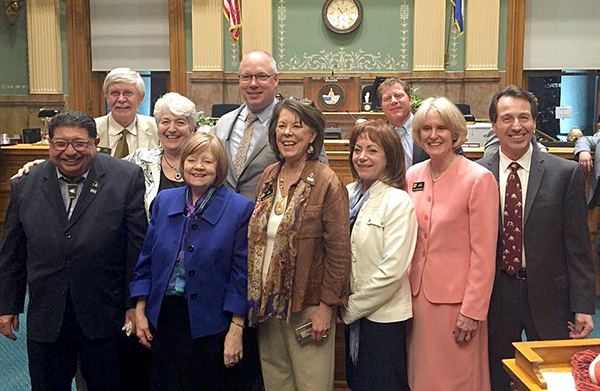 The departing "senior class" in the House poses for a picture late Wednesday. Photo from Rep. Beth McCann's Twitter feed, @BethMcCann5280.
As the legislative session raced to a close, the tense final votes were like a down-to-the-wire basketball championship.
The team trails by two points with one second left. Its best long-range shooter catches the inbound pass at the far end of the court, turns and hurls a jump shot from 60 feet away. The air pressure in the arena drops and there's a brief, instant silence as 20,000 fans simultaneously draw in their breath. The ball arcs across the court and angles toward the hoop. Flashbulbs pop. Someone spills a beer. The ball falls toward the rim ...
And crashes to the floor five feet away from the basket.
It's over, ending the way last-second shots almost always do: with a miss.
So it was Tuesday with House Bill 1420, the Hospital Provider Fee bill that had everyone at the Capitol talking since last year.
Democrats, along with Republican Sen. Larry Crowder, wanted to designate the $700 million fee as an enterprise that is not subject to limits imposed by the Taxpayer's Bill of Rights. The move likely would have eliminated TABOR refunds to taxpayers for several years.
Senate Republicans never budged publicly in their opposition. There was talk as late as Tuesday of a deal to trade passage of the provider fee bill for approval of a Republican bill to issue bonds to pay for highway construction, but nothing came of it. The shot missed, the clock ran out, and proponents of the provider fee could only say, "We'll get 'em next year."
A lineup of proponents, including the Denver Metro Chamber of Commerce, Colorado Hospital Association, Colorado Association of School Boards, Colorado Academy of Family Physicians and the University of Colorado, testified at the bill's hearing before the Senate Finance Committee. Some pointed out the budget cuts they would suffer when the Hospital Provider fee begins to drive large TABOR refunds in coming years. Others said that most groups backing the bill wouldn't benefit directly from the change, but were advocating for it in the interest of Colorado's economy. Proponents have called the provider fee's interaction with TABOR a "glitch" that could be fixed easily by the legislature.
The legislature cut the amount of the provider fee this year to prevent TABOR refunds, but Crowder said that hurts the hospitals in his rural district, which will get less money back from the federal matching funds the provider fee generates.
But his fellow Republicans on the committee pushed back. Sen. Owen Hill said the bill had generated an important discussion about the "appropriate role and size of government." But he worried that "we would be creating a bit of a sugar high" that would not last, as other budget pressures would force the legislature into similar discussions soon. He also left us with the catchy title of this blog — thanks, Senator Hill.
Sen. Tim Neville pivoted to rising health care costs as the real object of concern, saying, "I cannot give the Hospital Provider Fee enterprise status without ignoring the 800-pound gorilla in the room: Medicaid."
It was clear before the final vote that HB 1420 would fail, and it did, 3-2. Immediately afterward, House Bill 1450 — a companion bill that would have laid out how to spend freed-up funds — was killed at the request of its disappointed sponsor, Sen. Pat Steadman (D).
Plenty of other drama played out in the session's closing days, with final decisions on a number of health-related bills, including those about 72-hour mental health holds, regulation of community paramedics and a tax credit for preceptors who volunteer to train rural primary care providers.
Many members of the General Assembly spent their last day on the House or Senate Floor yesterday as they stared down impending term limits. The House took until 10:30 p.m. to finish speeches honoring departing legislators, while the Senate required even more time — praise for Senate President Bill Cadman (R) wrapped up just after midnight. Members of the "graduating class" spoke fondly of their time in the legislature and their appreciation for years of work with their colleagues. Some took the last day of their last session as an opportunity to speak more openly about issues that inspired or frustrated them.
House Minority Leader Brian DelGrosso (R) made his thoughts on task forces and studies clear during a discussion on Senate Bill 183, which deals with 911 calls. The bill had already been amended to propose a study rather than any policy changes, and a last-second amendment was about to send it back to a committee for further debate.
DelGrosso bluntly told his colleagues, "Over my eight years, one of the things that I've learned: These reports? People don't look at these anyway." He continued, "Who cares where these reports go? The reality [is] that we are on our last day, fighting about where some stupid report is going to go."
As some members of the House clapped loudly, Speaker Dickey Lee Hullinghorst (D) said with a chuckle, "I'm sure there was something in all of that that was out of order . . . so I'll just bang my gavel." And she did. Hullinghorst is also term-limited.
In terms of final numbers: Each of the 85 bills we tracked at the Colorado Health Institute has now been decided. For this group of health-related proposals, we saw a passage rate of just 52 percent — exactly the same as for our 2015 watch list. Lawmakers were nothing if not consistent. (They even introduced almost the same number of bills: 686 in 2016 compared with 682 in 2015.) We'll be sharing our full bill tracking list in the coming days.
And we're hard at work writing about our takeaways from this session, which was colored by split party control of the legislature and compounded by the highly visible politics of a presidential election year. In our upcoming publication, Legislation in Review, we'll discuss overarching trends for health bills in 2016, highlight the most notable proposals that we followed, talk about the budget debate and preview issues to watch in 2017.
We anticipate that our annual publication will help legislators and the public take a step back from the session and find lessons that resonate with them. Keep an eye out for Legislation in Review in early June.
With that, we extend a heartfelt "thank you" for following along with us for the past 120 days. Questions, kudos, criticism and suggestions are always welcome, so feel free to email Allie or email Joe at any time. Now get out there and enjoy the sunshine.
***
Senior Communications Expert Joe Hanel contributed to this blog post.