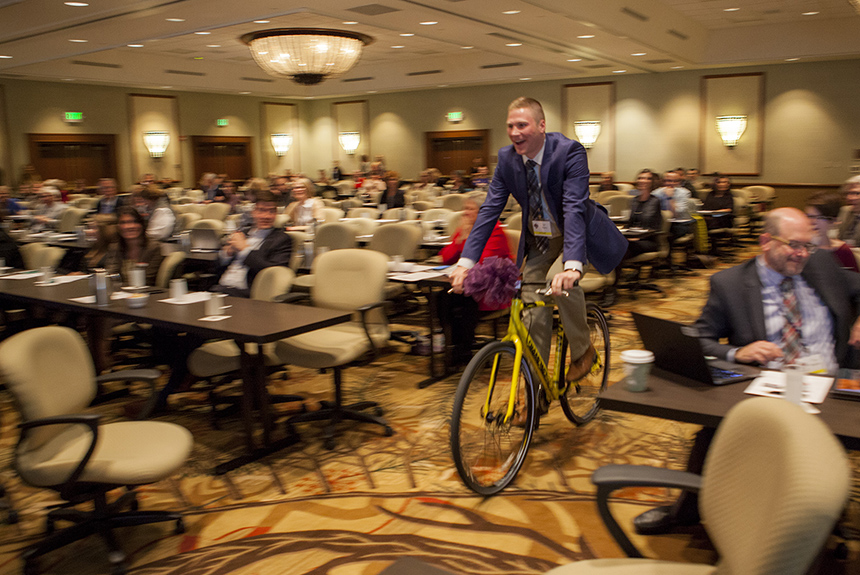 CHI's ninth Hot Issues in Health Care conference wrapped up last week, and since then we've been collecting feedback and processing our own reactions. This year's event — our largest ever! — drew more than 250 attendees. Their energy, curiosity and camaraderie was impressive, and despite complex topics and a lot of data analysis, we managed to have some fun, too.
As we head out for R&R over the holidays, we want to say a big THANK YOU to all the people who contributed to Hot Issues in Health Care and made it such a success. We'll be back again in 2017, but until then we'll leave you with the following reflections, which were submitted by our wonderful group of volunteers — all of whom received scholarships from CHI to attend the conference.
---
Coming from a rural and isolated county, it's not always possible for us to stay updated on health care policy issues. I deeply appreciate the opportunity to volunteer and attend the Hot Issues in Health Care conference this year. The conference was filled with brilliantly divided Coloradans discussing our health care future given this dramatic election season. Between the beautiful scenery at the Cheyenne Mountain Resort and the thorough bipartisan speakers, the Hot Issues in Health Care Conference was an absolute success. Thanks for the experience!
— Ashley Hill, Rocky Mountain Rural Health, Fairplay
Hot Issues in Health Care could not have been more timely. On everyone's mind is what to make of this election and what it means for health care policy. CHI did an excellent job of presenting a balanced view on what is being discussed in terms of federal and state policy changes, what seems most likely to happen, and what we can do to be prepared for various scenarios. Michele Lueck's insight in the very beginning of the conference — that data is not enough and we need to talk more openly about our core values —  has really stuck with me. I appreciated Sarah Kliff's insights into what is most likely to happen in Washington, and Lt. Governor Donna Lynne's remarkably hopeful message of the opportunities we may have here in Colorado, where we have a long history of collaboration and working across the aisle.
— Mindy Klowden, Jefferson Center for Mental Health, Wheat Ridge
My number one comment is about the networking of attendees and the rich expertise of the speakers for this conference. It is so great to be able to know that we are in this together and to be exposed to different and broader, balanced perspectives. It was informational but also practical for helping guide next steps in my work. Thanks so much for the very evident effort in providing such a valuable conference.
— Darlyn Miller, RN, Regional Health Connector, Community Health Partnership, Florissant
I arrived at HIHC16 very eager to hear from those in the know about what they anticipate relative to the fate of the ACA. The timing of the conference is great given the election results! Since the election, I have been hearing all manner of speculation relative to the ACA. Although clearly no one can say anything for certain, I was very pleased to hear real information about prospective plans and options the new incoming administration may consider. I especially appreciated hearing about the various possibilities relative to Medicaid. The kind of information and insight provided by the presenters is invaluable to advocates as we prepare ourselves for 2017 and beyond.  
— Brooke Powers, Denver
Hot Issues in Health Care was an unforgettable experience. As a Regional Health Connector, I felt that the information was extremely relevant, and I learned something new from every keynote speaker, every meal we shared with others and every breakout session. I greatly appreciated the overall optimism presented about the future of health care and the knowledge shared by all who attended. HIHC facilitated a wonderful environment of professionalism, education and sharing, in a beautiful setting at Cheyenne Mountain Resort. I am grateful for the experience and the chance I received to attend and volunteer with the Colorado Health Institute.
— Cassandra Rogers, Regional Health Connector, Otero County Health Department, La Junta
As a consumer advocate for kids and adults with disabilities, Hot Issues in Health Care provided key facts, trends and perspectives into current and future health care needs throughout Colorado. From potential changes in the Trump administration to Colorado's baby boomers and millennials, the health care workforce must continue to provide the best care possible throughout our state. People with disabilities are living typical life expectancies for the first time in history!  Kids and adults are living longer and stronger with inclusion in school, community supports and services, and quality health care. It's more important now than ever that we adapt and prepare for the future. Thank you for the opportunity to learn, engage and grow at HIHC. Kudos!
— Kelly Stahlman, Littleton
Thanks again to our volunteers, and best wishes to all for a healthy and happy holiday season!