We continue to see a lot of interest in our annual Legislation in Review report, which we released last week. The report summarized the trends we saw in health legislation from the 2014 session. What were those trends? Find out by reading the report, viewing the webinar and reading a blog from Megan Lane, Director of Legislative Services, here.
This week, three members of our team – Michele Lueck, President and CEO, Amy Downs, Senior Director for Policy and Research, and Jeff Bontrager, Director of Research on Coverage and Access, are in San Diego for AcademyHealth's Annual Research Meeting (ARM). Michele, Amy and Jeff took a break from the nerdy fun to pose for a picture.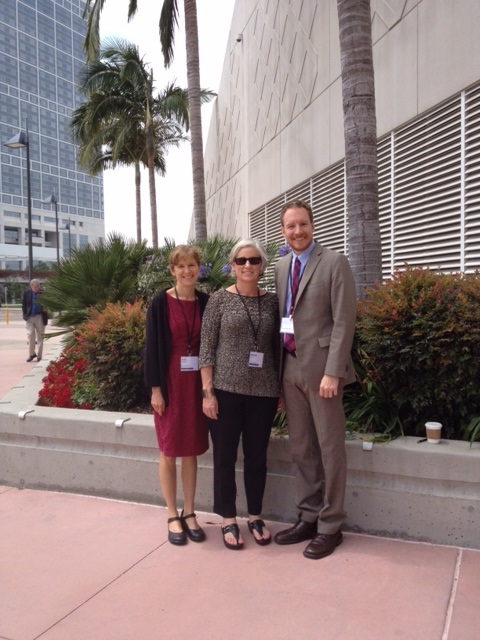 Anna Vigran, Senior Analyst, is attending the 2014 Patient-Centered Primary Care Collaborative Western Regional Conference today at the Denver Tech Center. The conference is focusing on identifying issues that primary care and patient-centered medical home advocates face in pursuit of delivery system reform such as payment reform, behavioral and mental health integration, health system consolidation, state health reform and community partnerships.
One change resulting from the Affordable Care Act is a new way of calculating net income. This new method – called Modified Adjusted Gross Income, or MAGI – is used to determine eligibility for public insurance programs. CHI is currently working on a fact sheet on MAGI, which will provide an overview of how the new method impacts eligibility for both adults and children. We've sought input from a variety of stakeholders to make sure we're presenting this complicated subject the best way possible. Watch for it soon.
Later this week, we will release a 2013 Colorado Health Access Survey (CHAS) Survey Snapshot on underinsurance, written by Rebecca Alderfer, Senior Analyst. Until then, you can view past Survey Snapshots along with other CHAS analysis on our CHAS page.